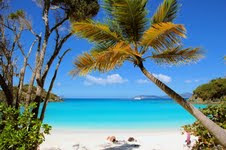 The Caribbean's pristine coasts are sought-after destinations year round. Whether young or old, the restorative powers of the salty sea, bright sun and balmy air make for a happy, unforgettable vacation. When you take a timeshare vacation and head out to see the landscape up close with your own car rental in the Caribbean, you will have a plethora of destinations from which to choose.
I head to the Caribbean whenever I can, to get away from Maine winters, and have had the good fortune of traveling throughout the area. Here are five of my favorite beaches:

Trunk Bay, St. John

Trunk Bay (see photo) is part of a massive plot of land that Laurence Rockefeller donated to the US as a National Park in the 1950s and therefore is an unrivaled picture of marine preservation. Over 30 species of tropical fish can be noted if you swim the marked snorkel trail and hundreds of colorful coral formations will greet you underwater as well. This small stretch of fine sand has adjacent basic amenities.

Shoal Bay, Anguilla

Here the pure white sand is straight from a postcard, the water is clear as crystal and the atmosphere is serene. Shoal Bay is somewhat unique in that it has both east and west facing shores. While the sunrises are pretty, the amazing sunsets are not to be missed. Whether you spent your day at the beach sunning, or snorkeling within the reef protected bay, take a moment and revel in the fiery color show. For a singular treat, order a snack at nearby Eloida's. A fun day trip, Anguilla is just a 20-minute ferry ride from Saint Martin.

Seven Mile Beach, Jamaica

For a wilder beach experience, head to Seven Mile Beach. This golden hued expanse of sand boasts a historic light house at one end, and scenic cliffs further up the shore. This is where you will find fun clubs, hip restaurant patios and vibrant atmosphere abounding. This is where you'll want to try jet-skiing or a pleasure cruise into the Caribbean.

Crane Beach, Barbados

With powder pink sand eroded from coral and dramatic cliff side scenery, Crane Beach is certainly an exceptional stretch. The waves here make it a coveted surfing destination but if you aren't experienced at 'hanging-ten' there are boogie boards available for those who still want to get splashed in the surf.

The Baths, Virgin Gorda (BVI)

Make your way to the British Virgin Isles for a truly unique beach destination. Devil's Bay National Park (The Baths), is a region of the island's coast that is littered with huge granite boulders, some up to 40 feet tall! These striking monoliths form eerie grottoes, caves, pools and tunnels to explore. Scramble among the wave worn rocks or float in the calm and clear coves.
Noella Schink writes from Portland, Maine but she loves to get away from winter snow to the tropical climes of the Caribbean. She recommends Auto Europe the next time you are looking to rent a car while staying at your Caribbean timeshare.

Categorized in: caribbean beaches, Caribbean destinations, Caribbean timeshares, Caribbean vacations