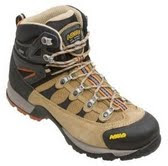 Going for a hike is a great way to relax and enjoy the outdoors. It's also the perfect way to explore the area around a timeshare – when you travel by road alone there is so much you'll just never see.
You don't need much to take a hike. A light backpack, a sandwich and water bottle, and of course, a good pair of boots. The right boots will feel lighter and support your feet more, but on the other hand, nothing can ruin a day out in the woods or the mountains faster than a poorly-fitting pair.
Fit is by far the most important consideration. When you put hiking boots on, you should be able to slide one finger down the back of the heel. If you can't, they are almost certainly too small and you risk blisters at the heel.
If the pair you are trying on pass that test, the next thing to do is lace them up and walk down a slope. Most good hiking boot retailers have a short slope in store for this purpose, but if you've ordered boots online, try walking down the stairs. Do your toes hit the front of the boot? If so, they aren't the ones for you, and will bruise your toes.
The material hiking boots are made of also affects how comfortable and supportive they will be. Fabric boots are lighter, but they usually have a waterproof liner built in, and this can make them feel hotter than all-leather boots. A leather hiking boot can be kept completely waterproof by regular waxing, and this will make them last longer too.
Sole stiffness varies widely. For gentle walks over even terrain, a soft sole is fine, but if you're going up into the mountains or walking a long way with a heavy backpack, your feet will need more support and a stiffer sole. Hard soles are also better for rocky scrambles.
If you are planning a long hike as part of a vacation, make sure you buy boots well in advance. That way there will be time to sort out any problems before the big day. Remember- a boot that feels uncomfortable after an hour could really hurt after three, so always try a new pair of boots on around the house for at least a couple of hours before taking them outside. If they don't fit perfectly, return them straight away and try another style or size.
About Our Guest Blogger:
Jess Spate spent many years working in the outdoor industry and is a keen hiker. She is now is editor of a British outdoor gear website.
There are many timeshare rentals where great hiking is a popular activity and a great way to put Jess's information to good use. Head to Redmond, Oregon, and the Eagle Crest Resort, where you have seven miles of hiking trails, some of them along the beautiful Deschutes River. A timeshare rental at the Wyndham Pagosa Resort in Pagosa Springs, Colorado, will give you over 1200 acres in the valley of the gorgeous San Juan Mountains, to try out your new hiking boots. Or rent a Gatlinburg timeshare and check out the 800 miles of hiking trails in the Great Smoky Mountains National Park.
Categorized in: Eagle Crest Resort, Gatlinburg timeshare, timeshare rentals, Wyndham Pagosa