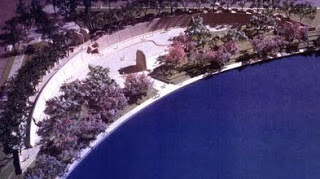 Did you know that there's a new memorial on the National Mall in Washington, D.C.? The Martin Luther King, Jr., National Memorial is being dedicated on Sunday, August 28, 2011. On your next timeshare rental vacation to our Nation's Capital you can add this beautiful memorial to your list of must-sees.
According to the memorial's official web site, "Dr. King was a profound teacher, whose lessons were anchored in the primacy of human dignity. He enacted irreversible social change and led our country forward, relying exclusively on non-violent means. The Memorial will be a lasting tribute to Dr. King's legacy and will forever serve as a monument to the freedom, opportunity and justice for which he stood."
The Martin Luther King, Jr., National Memorial lays along the Tidal Basin, with the main entrance through a crescent-shaped inscription wall aligned along the axis of the Jefferson and Lincoln Memorials. "This places the memorial directly in line with the larger democratic ideals that form the context for King's words and deeds," explains a spokesperson. "It's fitting that the memorial is situated not far from where Dr. King made his famous 'I Have a Dream' speech on the steps of the Lincoln Memorial."
"The Martin Luther King Jr., Memorial is conceived of as an engaging landscape experience tied to other landscapes and monuments, not as a single object or memorial dominating the site," states a spokesperson for the San Francisco-based firm, ROMA Design Group, creators the memorial. "The composition of the memorial utilizes landscape elements to powerfully convey three fundamental and recurring themes of Dr. King's life: justice, democracy and hope. The circular geometry of the memorial, juxtaposed within the triangular configuration of the site, engages the Tidal Basin and frames views to the water."
"The memorial is envisioned as a quiet and receptive space, yet at the same time, powerful and emotionally evocative, reflecting the spirit of the message that Dr. King delivered and the role he played in society. "
The King Memorial is intended to be personally transformative for visitors, building a sense of commitment to the promise of positive change and active citizenship.
Great timeshare rentals are available in the Washington, D.C., area, and include Wyndham Old Town Alexandria where timeshare rentals start at just $88/night, and Wyndham Vacation Resorts at National Harbor with timeshare rentals for only $120/night. Both resorts have easy access to The Metro for a quick ride to the National Mall.
Photo Credit: mlkmemorial.org

Categorized in: Jr., Martin Luther King, National Memorial, timeshare rentals, timeshare vacations, Washington D.C. area timeshares