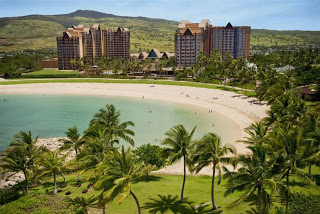 Welcome to the Happiest Place on Earth – in Hawaii. Aulani – A Disney Resort and Spa in Ko' Olina is holding its grand opening today – Monday, August 29, 2011.
Disney's first resort in Hawaii, Aulani is beachside on Oahu's Waianae coast. Its construction has been followed with eager anticipation since a blessing of the earth ground-breaking ceremony was held in November, 2008. Located on 22 acres in Ko'Olina, the resort is in the least developed area of Oahu, which is also home to a high percentage of native Hawaiian residents.
Native Hawaiians were brought into the planning process at the very beginning. Even the very name of the resort indicates the reverence that Disney intends to show for traditional Hawaii. Aulani is a Hawaiian phrase that means "the place that speaks for the great ones" or "the place that speaks with deep messages."
Disney Imagineers have worked closely with native Hawaiian consultants to create mouse-inspired Disney magic while at the same time showcasing the fascinating, and beautiful, Hawaiian culture. "We're a storytelling company," said Disney spokesman John McClintock, "and when we came to Hawaii, we didn't come to tell our own stories. We came to tell the stories that already exist here."
Aulani is a departure for Disney, created as an independent resort thousands of miles from any of Disney's world-famous theme parks. That means this resort must stand on its own, and compete with every other beach resort in Hawaii. But Disney's famous attention to detail and service is sure to place the Aulani at the top of dream destinations for Disney fans the world over. As Disney's first mixed-use resort, it features both hotel rooms and Disney Vacation Club timeshare villas.
The Aulani experience of course includes plenty of Disney fun. On-site are two restaurants, an 18,000-square-foot spa, a wedding lawn, and a conference center. The Waikolohe Valley is an 8,200-square-foot water-play complex. Extensive water activities include a large central swimming pool, a 900-foot two-channel lazy river tube floating watercourse, a wading pool, body slides, sunset-facing hot tubs, a quiet adult pool, a snorkel lagoon, and a conservation pool.
Guests will be able to enjoy unique Hawaiian experiences such as creating poi in the resort's taro gardens, learning traditional dances, practicing the Hawaiian language on the resorts workers (cast members), and joining in Hawaiian story telling around the fire pit in the evenings.
There are mouse-inspired design elements, including hidden Mickeys, and Hawaiian designed magic such as the Menehuni Bridge. Mickey and Minnie, dressed for an island vacation, will make appearances, but not as hosts – rather as guests, just like you.
"Aulani celebrates the best of Hawaii and represents a new way to enjoy a family vacation with Disney," said Tom Staggs, chairman of Walt Disney Parks and Resorts. "We believe the tremendous beauty of Ko Olina provides the perfect opportunity to create a uniquely Disney experience for our guests in a way that is true to Hawaii."
To learn more about the Aulani Disney timeshare resort click here to see a previous post.
(Photo credit – resort.disney.go.com)

Categorized in: Aulani a Disney Resort Spa, Aulani Disney Timeshare, Aulani grand opening, hawaii timeshare, timeshare news