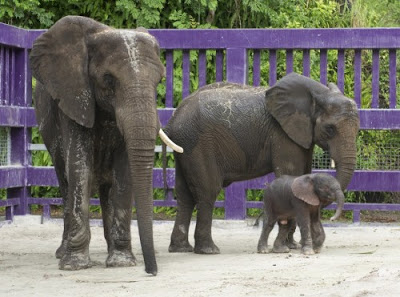 Wildlife Wednesdays continue at Disney's Animal Kingdom. Last month we talked about the conservation efforts that involve the Disney Corporation with the Association of Zoos and Aquariums Elephant Survival Plan, when we suggested an Orlando timeshare rental vacation to go see Luna, the fifth baby elephant to be born at Walt Disney World, who celebrated her first birthday in May.
If cutie Luna isn't enough to get you out on the Animal Kingdom savanna, maybe seeing Jabali will (see photo). He is a new 311 pound baby elephant who was born on August 24, 2011. According to a Disney press release Vasha, the 25-year-old mother, delivered the herd's latest addition after gaining more than 800 pounds during a 22-month gestation. The new calf is the second for Vasha, who gave birth to a female calf, Kianga, in 2004.
"The natural bonding between mother and calf is fascinating," said Jackie Ogden, Ph.D., vice president of Disney's Animal, Science and Environment Programs.
The next critical milestone, explained Ogden, is for the calf to continue the bonding process with his mother who will teach him important lessons, and protect him as he gradually acclimates to the rest of the savannah herd over the next several weeks. With 12 elephants, Disney's Animal Kingdom has one of the largest African elephant herds in North America, including four males and eight females.
"Not only is Jabali bonding with his mom, but he's also receiving a lot of attention from his older sister Kianga, who has been showering him with affection," says Ogden.
Disney's press release offered these interesting Baby Elephant Facts:
It can take several days for the calf to coordinate trunk movements. Initially, it may only be able to wave it in the air, suck on it – or trip over it.
Suckling up to 12 liters a day, baby elephants may depend on mother's milk for up to three years, although they can be weaned at two years of age.
Calves learn how and what to eat by watching the older elephants.
So head to an Orlando or Disney timeshare rental now to see one of Disney's cutest creations yet!
(Photo credit – disneyblog.com. Video credit – disneyparks.disney.go.com)
Categorized in: Disney timeshare, Disney's Animal Kingdom, Orlando timeshare, wildlife wednesdays