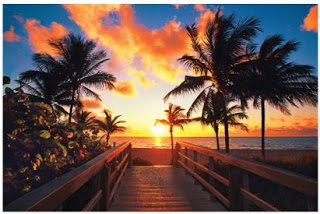 The greater Ft. Lauderdale area offers great restaurants, attractions, and a beach front that makes it a prime spot for a family vacation. I am originally from Ft. Lauderdale and travel back at least once a year with my family for Christmas vacation.
While most people don't think of Ft. Lauderdale as a Mecca for great food, there are several great restaurants. If you go to Las Olas Boulevard, you can find several great restaurants, especially if you like seafood. A few popular restaurants include:
Mango's Restaurant and Lounge
Indigo
Tuscan Grill
CJ's Café
Mai Kai
Las Olas is also a great place to come back to later in the night without the kids or if everyone in your party is 21 or older. There are plenty of clubs that offer huge dance floors and bars that offer a relaxing atmosphere to talk over a few drinks.
It's important to make time to take a boat tour along the Ft. Lauderdale waterways. There are several companies that offer these, but I think Jungle Queen and Water Taxi offer the best tours. You can see all the magnificent homes along the waterway while enjoying a relaxing boat ride. If you enjoy water parks, there are several in Ft. Lauderdale and nearby Miami. I highly recommend making a trip down to South Beach for any shopping you want to do on your trip. If you are looking for a great afternoon attraction, stop at the Seaquarium in Miami.
If you are making the trip to Ft. Lauderdale, chances are you plan on spending some time on the magnificent beaches. Ft. Lauderdale offers miles of beautiful beach front with the perfect background to catch up on some much needed rest and relaxation. There is plenty for the kids to do on the beach; just make sure to pack whatever sand castle equipment or sports gear you plan on using.
When going to the beach, do not leave your hotel without sunscreen and sunglasses. You would be surprised at the number of people that think they are immune from the sun and end up having their vacation ruined by sunburn. The sun's rays are even stronger on the beach since a lot of sunlight is reflected off the water.
The next time you are planning a family vacation, consider visiting sunny Ft. Lauderdale. Not only are there plenty of attractions and restaurants, but the beaches are beautiful and well kept. Ft. Lauderdale is also very affordable and attractions are going to be cheaper compared to visiting Hawaii or Orlando.
Lastly, there are three airports nearby. There is Ft. Lauderdale airport,http://www.blogger.com/img/blank.gif along with West Palm Beach and Miami International airport. This allows you greater travel options and a better chance at finding an affordable flight with times that work best for you!
Take a look at the bargains you can get in Fort Lauderdale timeshare rentals. For example, the Fort Lauderdale Beach Resort has timeshare rentals starting at just $56/night.
We'd like to thank Adam Bruk for his informative guest blog. Adam loves to travel and visit new places every opportunity he gets. When he isn't at work for SunglassWarehouse tracking retail trends in men's sunglasses, he can be found on the golf course or catching up on the latest travel news.
(Photo credit – sunny.org)
Categorized in: Florida timeshares, Florida travel, Fort Lauderdale timeshare rentals, Ft Lauderdale restaurants, Ft. Lauderdale