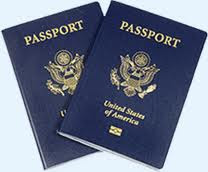 You never know when you're going to need a passport. There are many great timeshare rentals around the world to plan a vacation. And if you have loved ones traveling abroad you could find yourself facing an emergency trip. If you don't yet have a passport then Saturday, September 17, 2011, is the time to get one.
"While it's true that most Americans don't own a passport, the blue book with its gold-embossed eagle inspires something different in those who are in possession of one," says Fox News reporter Jo Piazza. "There are plenty of excuses given for not getting a passport– chief among them the hassle of having to apply for it in person during regular working hours."
So this Saturday the State Department is bending those rules on their third annual Passport Day in the USA – a day when all regional passport agencies and passport acceptance facilities, including post offices, will be open on the weekend when they are normally closed.
For this day only, U.S. citizens can apply directly at passport agencies without making an appointment, and both routine and expedited processing service can be requested.
The agency is hoping to increase the number of Americans with valid passports, reports Piazza, stressing that all citizens need one, not just those who have plans to travel outside of the country, especially since most international travel isn't planned ahead of time.
"Anyone with family members overseas, older relatives who travel, children who study abroad, we recommend that these people have a valid passport at all times because there may be an emergency and they will need to travel on short notice," Florence Fultz, managing director of the State Department's Passport Services told FoxNews.
"Then there are obviously the more fun things like they see a great last minute deal on travel and want to take advantage of it. The biggest challenge we face is when people need their passports immediately," Fultz said.
On Saturday, September 17 only, apply for your U.S. passport at a Regional Passport Agency Regional Passport Agency without an appointment. You will be able to apply for standard processing (4-6 weeks) or pay an additional $60 for Expedited processing (2-3 weeks, door-to-door).
Passport Day in the USA also means passport-themed events for adults and children at Regional Passport Agencies and many passport Acceptance Facilities across the country in communities like yours. If you've been waiting to get your passport, this is the time!
Children are eligible for passports as soon as they have a birth certificate.
Source: foxnews.com
Categorized in: passport, Passport Day in the USA, timeshare rental vacation, travel abroad