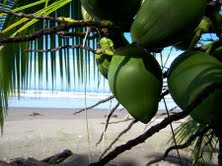 Beautiful Costa Rica or "Rich Coast" is located in Central America. Costa Rica boasts a tropical climate throughout the year and is an ideal place to vacation. Costa Rica's natural beauty may appeal to environmentally conscious travelers and the amazing beaches will certainly appeal to any beach bum! There are many beautiful places to visit in Costa Rica.
Costa Rica's vast rainforest is worth visiting during your trip.
Corcovado National Park
is a great destination with amenities for camping and hiking. You can also witness some of Costa Rica's endangered species during your visit. You may enter Corcovado by multiple entrances. The Leona Ranger station is ideal for visitors wishing to enter the park on foot. Camping sites with outdoor showers are available at this ranger station. Madrigal Beach is also located near this area.
Tamarindo Beach
is on the Pacific Coast and features crystal clear water. This is also a great location to enjoy nature and breath-taking sunsets. You may wish to partake in water-sports or activities like fishing or surfing here. Various tour operators offer tours in Tamarindo.
Tortugero National Park
is a well-known turtle nesting area on the east coast of Costa Rica. Various species of sea turtles including the green turtle come here to lay their eggs. Various other water species live here including crocodiles, manatees, crabs and an array of fishes. This is an ideal location for basking in Costa Rica's natural beauty and enjoying a boat ride on the canals.
Arenal Volcano
is an active volcano at the edge of Lake Arenal. It is less than 7,000 years old and was dormant for many years until it erupted in 1968. Today it is on the list of the world's most active volcanoes. If you visit this site you might be able to witness its glowing orange lava flows (from a safe distance of course). It is definitely a stunning site to see and worth a visit.
Montezuma
is a lovely village known for its beautiful beaches. This is the place you come to relax and get away from it all. A noted bar in Montezuma is Chico's Bar in the center of town. It's an open-air bar with a dance floor and lounge. Many tours are given in Montezuma as well.
Costa Rica has many beautiful places to visit. Its natural beauty is sure to rejuvenate and inspire anyone who comes. Costa Rica is great for both active vacationers and loungers alike.
Kylee Ramos is an experienced Costa Rica Vacations agent. She has been writing about her experiences in the country since 2004.
Categorized in: costa rica timeshares, costa rica travel, timeshare vacation