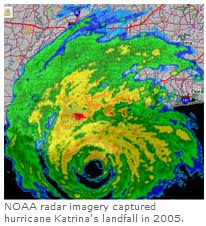 There are many destinations along the southern east coast where autumn brings perfect vacation weather – a drop in humidity, and sunny days where the blistering heat of the summer relaxes into a comfortable warmth. Unfortunately, this also coincides with hurricane season.
Hurricane season technically goes through the end of November. According to the National Weather Service of NOAA (National Oceanic and Atmospheric Association), 2011 is an "active, above-average" hurricane season. Hurricane Irene certainly brought that home. Since then Hurricanes Katia and Maria have punched their way through the Atlantic, along with numerous tropical storms, the most recent being Tropical Storm Nate.
Meanwhile and in between, it's perfect beach weather all along the southern eastern seaboard of the U.S, and in the Caribbean. So what's a traveler to do? If you have wanted to enjoy these pleasant fall days by renting a timeshare in a great getaway destination such as Myrtle Beach or Hilton Head or the Florida Keys, or even on one of the many islands of the Caribbean, there are a couple of things you can do.
First, you can keep a close eye on any developing storms by monitoring reports on NOAA nws.noaa.gov.
And, second, consider good travel insurance.
Coverage for weather-related trip cancellations and interruptions differs by insurance company and plan. The covered cancellation reasons can include:
Cancellation due to Weather: when airlines cease service due to weather
Cancellation due to Hurricane Warning: cancellation of your trip if your destination is under a NOAA-issued hurricane warning
Destination made Uninhabitable: if your timeshare rental resort is devastated by a storm
Cancel For Any Reason – an optional benefit that allows you to choose whether or not to cancel.
"Now is a good time to get reacquainted with your travel insurance policy," says Jim Grace, president and CEO of InsureMyTrip.com, a travel insurance comparison site. "You need to review the terms of your policy and the key protection it provides whether you're traveling to or through a hurricane-prone region or live in a zone where weather can keep you from taking a trip."
However, an important aspect of travel insurance to understand is "Trip cancellation and interruption protection is based on the occurrence of unforeseen events." As Grace explains, "Once a storm has been publicly identified, it can only spell trouble for travelers without insurance protection. You need to purchase travel insurance coverage before a storm is predicted and named, not when it's bearing down on you or your intended destination."
Armed with knowledge and a plan, a savvy vacationer can still enjoy the beautiful weather of an Atlantic coast autumn beach vacation. Check out the many great timeshare rentals available for that fun and relaxing getaway.
Categorized in: hurricane season, hurricanes and travel, timeshare rentals, travel safely