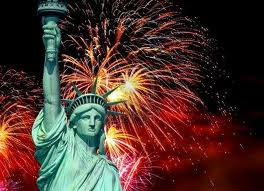 United States Secretary of the Interior, Ken Salazar, has announced that the Statue of Liberty will close for a year to undergo refurbishments. The $27.25 million renovation, which includes long-planned safety and other critical facility renovations, will begin in late October.
This still gives you time for a beautiful fall timeshare vacation to New York City, and the chance to climb to the crown of the Statue before it closes.
For safety considerations, the National Park Service has to limit the number of visitors to the crown to groups of no more than ten visitors at a time. With approximately three groups ascending the crown per hour, an average of 240 visitors climb to the crown each day.
"Two years ago, when we reopened Lady Liberty's crown to visitors for the first time since the September 11th attacks, I promised that we would continue to upgrade the interior to make it safer and more accessible for all," Salazar explained.
The National Park Service awarded the work to Joseph Natoli Construction Corporation of Pine Brook, NJ, to install code compliant stairways within the monument, update mechanical, electrical and fire suppression systems, replace the elevators, and rehabilitate restrooms.
The improvements will also allow for increased visitor access to the monument, including the pedestal and the museum.
The National Park Service will keep the monument open to the public through the October 28th celebration of the 125th anniversary of the statue's dedication.
It will be closed the following day as work commences; however, Liberty Island will remain open during the project and views of the Statue of Liberty will remain largely unobstructed during the year-long upgrade to the statue's interior. A good view is from the Staten Island Ferry which takes you on a free ride across New York Harbor.
During the fall there are some great timeshare rental deals in mid-town Manhattan. Check out the Manhattan Club where you're right in the middle of the action and where timeshare rentals start at just $188/night.
(Photo credit – 123rf.com)
Categorized in: fall travel, New York timeshare, new york travel, statue of liberty closes, The Manhattan Club, timeshare rental