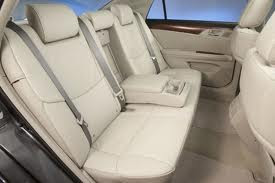 Are you planning a family timeshare "nearcation?" Let's explore some of the best cars for your kids to travel in. Perhaps you have been perusing car lots and show rooms, have a trade in car and are considering something new and amazing. There are no longer just one or two family style cars -there are lots of choices for your consideration.
The Toyota Avalon (see photo) is reported to be roomy, particularly in rear leg room. So, if you have leggy 'tweens and teens that you are traveling with, this will be a great feature. It has a large trunk space, is easy to enter and exit and has a pretty good mpg rating taking into account it's bigger size and V-6 engine.
Chevy's Traverse is appealing with its 3 roomy row seats. Whether you are headed to a vacation destination with 3 year old triplets or your 10 year son and his buddies, you will all have plenty of room to wiggle around a bit, get into your snacks and enjoy your road trip activities.
We obviously have to include the ever popular minivan option. Consider the Toyota Sienna for your all-wheel-drive travel needs. It sports plenty of flexible seating and cargo space for the perfect family cross country get away.
The Ford Flex peaks some interest with its large interior feel. The quiet, comfy ride and roomy second seat should make it a snap for your vacation travels, even if you are bringing along several bulky car seats! It has a third seat and a turbo charged engine for dad's enjoyment.
Subaru's Forester XT looks like a fun ride from the outside. With its big windows all around, it is an especially good travel choice for the curious grade school aged family members. The Forester sports a telescope steering wheel which promotes great driving positions.
The Toyota Highlander makes a great match for those who want to travel, but also have environmental convictions. This sweet ride comes in a hybrid version which nets about 27 mpg. Perfect for traveling with twin toddlers or maybe grandma and granddaughter in the roomy back seat.
With the airlines charging higher fares that include increasingly bigger extra fees for checking in luggage, and with an unpleasant security check-in experience at the airport, many of you might be looking at the option of putting everyone in the family car and driving to your timeshare rental destination. Good information on the best vehicle options for a comfortable and relaxing ride will go a long way toward keeping everyone in the family safe and happy on the trip.
Guest Author: Michal writes for Cash For Cars San Diego, an auto buying company. He loves to enlighten readers about new cars.
Photo Credit: carphotoscollection.tk
Categorized in: cars, family vacation, hybrid, leg room, mpg, timeshare, timeshare rental, travel with kids