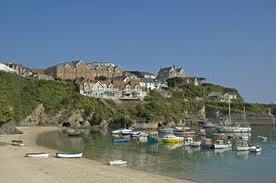 If you are planning a timeshare rental vacation to England, consider a day trip to the seashore. Autumn is still a great time of year to soak up the sun and smell the salt air, and this is a fun break from touring fancy palaces and stately gardens.
Newquay is a beautiful quaint town situated at the Northern Coast of Great Britain making it an excellent tourist destination mainly as a result of its charming beaches and lovely coastline. As well as being a great tourist destination, it is also known for being a superb surfing spot which attracts surfing enthusiasts all year round especially.
As a tourist destination Newquay has a lot to offer people of all ages, and unlike other seaside towns in Great Britain it also has a really vibrant nightlife.
With so much to see and do in Newquay, some people do not know where to start, so we have outlined below a short list of the best things you can do when you visit this lovely seaside town.
Freediving and Snorkelling. Since Newquay is a seaside town we thought we would start with a sea based activity that allows you to experience adventure and the beautiful waters of the English coast. Freediving and snorkelling is offered by several qualified companies that will teach you all the basics and then take you out to experience the underwater sights and scenery.
Coasteering. Coasteering is a really great way to see the gorgeous coastline of Britain and to do this you need to book a coasteering session in Newquay with one of the qualified instructors. They will take you on an excursion where you can climb along the coast, jump off cliffs into the sea (only if you want to) and swim through the underwater caves that have been there for thousands of years. This is definitely a great experience but you do need to be up for adventure and physical work to do this activity.
Blue Reef Aquarium. This is a really great activity for the whole family to enjoy where you can see the coastal species of Cornwall and also some amazing tropical species as well. The aquarium itself is state of the art and it also has an underwater tunnel so you can see the marine life in an amazing intimate environment.
Surfing Academy. If you are visiting Newquay and you have always wanted to try surfing then finding a surf academy is definitely a 'must do' activity. The waters of Newquay are renowned for great surf spots and there are plenty of high quality surf schools that can teach you the basics and get you surfing in no time.
Newquay has so much to offer and the 4 activities listed above are just a small number of what it has to offer visitors. Finally Newquay also has some of the very best restaurants on the Cornish coast and with so much variety you are sure to never be stuck for ideas of where to eat!
Author Bio:
Jonathan works with Queens Leather who specialize in travel bags such as leather holdalls and leather flight bags.
(Photo credit – latebreak.com)
Categorized in: beach travel, England timeshare, Great Britain, timeshare rental