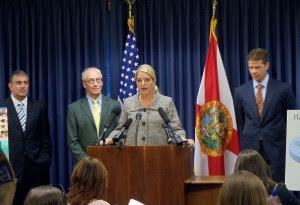 On October 4, 2011 Florida's Attorney General Pam Bondi joined Senate Majority Leader Andy Gardiner (R-Orlando) and Representative Eric Eisnaugle (R-Orlando) to unveil a legislative initiative that will protect consumers from timeshare resale fraud, the number one complaint that the Attorney General's Office has received for the past two years.
The bill strengthens existing laws by addressing unfair and deceptive marketing and advertising practices by timeshare resale companies. From January 2011 to date, the Attorney General's Office has received nearly 6,863 complaints. In 2010, the Attorney General's Office received more than 12,000 complaints about timeshare resale fraud— more than the next four highest complaint categories combined.
"Florida is home to millions of timeshare periods that consumers purchase. We cannot allow unscrupulous individuals to mislead and defraud our consumers who are attempting to sell their timeshares, many of whom have invested their life savings into their dream vacation homes," stated Attorney General Pam Bondi.
The most common complaints include: false claims that a specific buyer is ready to buy or rent the property once the consumer signs a contract; deceptive claims that property will sell or rent within a certain time; failure to honor stated-cancellation policies, including refunds of fees; and misrepresentations of the actual services provided to consumers.
The proposed legislation includes the following provisions, among others:
A timeshare resale advertiser may not misrepresent a pre-existing interest in the owner's timeshare.
A timeshare resale advertiser may not mislead a customer as to the success rate of the advertiser's sales.
A timeshare resale advertiser must honor a cancellation request made within 7 days following a signed agreement.
A timeshare resale advertiser must not collect any payment or engage in any resale advertising activities until the timeshare owner delivers a signed written agreement for the services.
A timeshare advertising agreement must be put in writing.
Wyndham Vacation Ownership was quick to commend Florida's action. "Attorney General Bondi has put timeshare resale companies on notice in the state of Florida," said Franz Hanning, President and CEO of Wyndham Vacation Ownership.
"Our industry has long benefited from responsible regulations that protect consumers and ensure the integrity of products and services. Timeshare resale companies should not be exempt from these standards and we applaud Attorney General Bondi for leading this effort on behalf of Florida timeshare owners and our industry at large," concluded Hanning.
(Photo Credit – myfloridalegal.com)Standing with Attorney General Bondi are Majority Leader Sen. Gardiner, AARP Florida Advocacy Manager Jack McRay, and Vice President of State Government Affairs for the American Resort Development Association (ARDA) Jason Game.
Categorized in: ARDA, Florida timeshare fraud, timeshare fraud, timeshare fraud protection, timeshare legislation