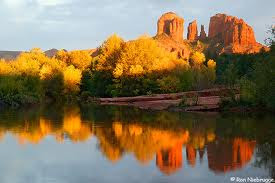 If you are looking for someplace in the West to enjoy Fall colors, plan a timeshare rental vacation to spectacular Sedona, Arizona. Autumn really outdoes itself in this Red Rock Country.
The red rock formations seem to glow their own colors of fall as they reflect the sunset's oranges. And the ancient oaks along Oak Creek dance in shimmering yellows and golds in a bright autumnal celebration.
Named after the wife of the town's first postmaster who was known for her hospitality, Sedona is a place where you'll feel at home from the moment you arrive. And there are plenty of ways to explore the area, where you'll be trodding in the footsteps of many Hollywood stars, including John Wayne, Jimmy Stewart, and Elvis Presley, who came here to make movies using nature's spectacular backdrop.
Sedona is an amazing amalgam of literally something for everyone. If you're an outdoor buff, the outdoor recreation to be found throughout the area is unrivaled, from easy hikes to challenging backpack day trips, from rock climbing to 4-wheel drive jeep excursions.
Are you into history and archeology? Some of the best examples of ancient cliff dwellings and petroglyphs in the west are near Sedona, including Palatki, Honanki, and Montezuma Castle. The Old West comes alive at Fort Verde State Park where an Apache Wars-era fort from the 1880s is preserved.
How about arts and culture? Rivaling Santa Fe and Scottsdale in the richness of the arts, Sedona is home to hundreds of artists of every medium. Its 40 art galleries offer art from cutting-edge contemporary, to Native American to modern realism. On the first Friday of every month various galleries host openings, technique demonstrations and receptions.
Sedona is well known for its unique spiritual and metaphysical side, too. Sedona has been considered a sacred area for centuries by numerous Native American tribes. Today the "power vortexes" draw healers, intuitives and spiritual guides from around the world. The sense of well-being experienced by visitors is part of the personal enrichment that many people seek on their spiritual journey to Sedona.
Whatever activity you find yourself participating in, Autumn is a special time to enjoy a special place. The glory of Autumn color, the warmth of an Autumn sun, and the softness of sweet Autumn air makes a timeshare rental vacation to Sedona in the fall one you'll always treasure.

Sedona timeshare rentals start this fall at just $43/night.
Photo Credit: chucklawsen.com
Categorized in: Autumn vacation, fall vacation, Fort Verde State Park, Honanki, Montezuma Castle, Palatki, personal enrichment, power vortexes, Sedona timeshare rentals, spiritual journey, timeshare rental, vortex