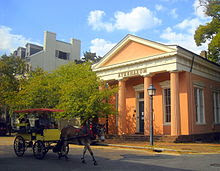 Autumn is a great time to visit Washington, D.C. The hot days have relaxed into pleasant warmth and the summer's crowds are gone. When you take your fall timeshare rental visit, some of the areas around our Nation's Capital should be on your itinerary as well.
A case in point is Alexandria, Virginia. In fact, one of the best places for timeshare rentals in the Washington, D.C., area is the Wyndham Old Town Alexandria. Staying here not only puts you in easy reach to the Capital's highlights – via Washington's famed Metro just steps from your door – but Alexandria itself also offers wonderful experiences of our country's early history.
Alexandria, Virginia, actually predates Washington, D.C., by almost 50 years, and George Washington's home, Mount Vernon, is just 9 miles away. The portion of Alexandria that George Washington included in the plans of what would become the District of Columbia is known today as Old Town.
Old Town is the oldest section of Alexandria, having been laid out in 1749, and is a treasure trove of early American history. Historic buildings have been preserved along cobblestone streets and bricked sidewalks. Architectural standards help to maintain an eighteenth century atmosphere and charm.
The Alexandria Visitors Center is located in the original home of William Ramsay, a Scottish merchant and one of the city's founders.
Early Alexandria's Old Dominion Bank (see photo) stands as it did in the eighteenth century, and is now an art gallery known as The Athenaeum. Free to the public, this is home to the Northern Virginia Fine Arts Association, which offers programs, art exhibits, and live performances in the stately old building.
Free tours are offered at Christ's Church, the first Episcopal Church in Alexandria which was completed in 1772. George Washington and Robert E. Lee both worshiped here, as have many other notables including Sir Winston Churchill.
You'll want to be sure to stop by Gadsby's Tavern, a popular spot where the founding fathers socialized, and where Thomas Jefferson celebrated his presidential inaugural.
It's easy to prepare delicious meals in your timeshare kitchen with the Farmer's Market at Alexandria City Hall open every Saturday year round. One of the oldest continually operating farmer's markets in the country, you'll be taking part in a tradition begun by the colonists in 1753.
Alexandria also played an important role during the Civil War. This year marks the 150th anniversary of the start of the Civil War, and a free iPhone app "Explore Civil War Alexandria" is being offered by the Office of Historic Alexandria.
Timeshare rentals at Wyndham's Old Town Alexandria start at just $114/night.
Photo Credit: wikepedia.org
Categorized in: airline travel, Alexandria VA, Autumn, Christ's Church, Explore Civil War Alexandria, Gadsby's Tavern, Office of Historic Alexandria, The Athenaeum, timeshare rental