It's Halloween at Walt Disney World! A budget-friendly timeshare rental is just the treat for the entire family. No tricks here – there are plenty of them from which to choose in Orlando.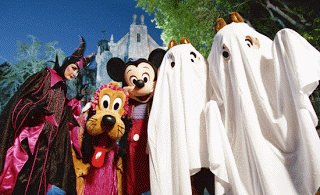 To get you in the mood – the above photo is a vintage 1996 picture from the Disney archives. Here Pluto dressed up as a Hawaiian tourist, Mickey was a pirate, and – who are those two ghosts, anyway? And, of course, Maleficent is, well – Maleficent. (Did you know that Maleficent was voted the No. 1 Disney Villain for 2011?)
To see what costumes the Disney characters put on for Halloween this year, head to Mickey's Not So Scary Halloween Party at Walt Disney World. Dress up in your own favorite Halloween costume and trick-or-treat all around the Magic Kingdom Park. Special lighting, music and theming effects transform special areas of Magic Kingdom theme park into a happy haunted hollows.
The Halloween party also includes Mickey's "Boo-to-You" Halloween Parade—including Disney Characters as well as and the stars of the Very Haunted Mansion Halloween attraction. The parade begins with a spook-tacular ride by the Headless Horseman.
Happy HalloWishes is a dazzling fireworks show where – surprise! – the Disney Villains go trick-or-treating in the sky!
Since the theme of this party is "not so scary" be sure to bring even the littlest hobgoblins in your family.
Check out the many budget-friendly Orlando timeshare rental and Disney timeshare rental deals available this fall.
Photo Credit: disneyparks.disney.go.com
Categorized in: Disney timeshares, halloween vacation, HalloWishes, Headless Horseman, Mickey's Not So Scary Halloween Party, Orlando timeshare rentals, Walt Disney World