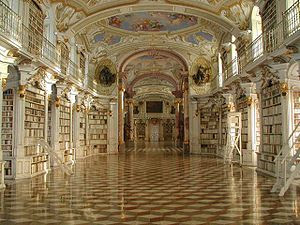 These libraries are famous with good reason. They offer intricate touches of history, and range from century's old beautiful architecture to modern flights of imagination. If you're planning a timeshare rental vacation and want to explore something besides the same ol' museums – check out these fascinating libraries.
1. Library of Congress: This library is featured in Washington DC and is what the USA was founded on. Here you can find important documents, amazing books and articles on the government and history of the country, as well as many other books on a variety of subjects. It's beautiful and it has much to do with what represents American culture as we know it today.
2. Library of the Benedictine Monastery of Admont (see top photo): This very specific library in Austria is just something you can't believe until you see it. The architecture is nothing that we would see today and perhaps that is why we can't stop staring. Sure the selection of books and historical documents is of course impressive but the look of this library is what helps to make it famous.
3. New York City Library: This is famous for many things, but most notably for housing people during the 9/11 attacks. This became a focal point of these attacks and where people could come for refuge. It became a very sad sign of the times and is often associated with the tragic events that unfolded that day that will forever live in infamy.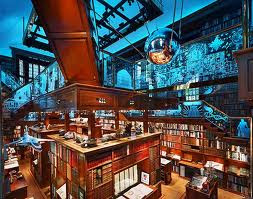 4. Jay Walker's Private Library (see photo right): One simply can't believe that this was once a private library with all of the collections within it. The walls hold countless numbers of books and you simply can't believe it until you see it in person. This Connecticut library is famous for its eclectic collection, from books bound in rubies to a real Sputnik, and though you may never actually read anything from here, the choices are simply something to be seen out of astonishment if nothing else.
Although these are all in fact libraries, they are not like anything that we've ever seen. They are works of art and historical tributes that add a richness to the world's culture – and to your timeshare vacation.
We thank our guest blogger Mary Frederick, who usually writes about the admissions process necessary to enroll in a masters degree in library science program online.
Photo Credits:
Library of the Benedictine Monastery: wikepedia.org
Jay Walker Library: wired.com
Categorized in: archetecture, Benedictine Monastery, Jay Walker Library, libraries, Library of Congress, museums, New York City Library, timeshare travel