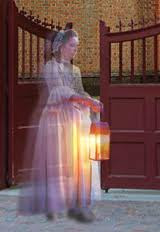 Do you want to encounter some Real ghosts this Halloween? Rent a timeshare at any one of these three historic sites – and you just might.
1. Colonial Williamsburg (see photo). Ghost tours take you through the cobblestone streets of this historic Virginia town, eerie on a dark night. Not only do you hear tales of real people and real events of this colonial capital, and walk in the footsteps of some of our most illustrious founding fathers, but you'll also learn about a darker side of Williamsburg. Numerous ghost sightings have been made here, not only by the staff, but by visitors just like you, and caught on tourists' cameras. Ghostly specters have been spotted sitting on a park bench with tour visitors, mingling among the tour group as they walked down the street, and waving from a window.
If you miss the Williamsburg ghost tours for Halloween, never fear – you can join one any night of the year. Just follow the glow from the lighted lanterns.
Williamsburg timeshare rentals start at just $59/night.
2. Andrew Jackson's Hermitage. The estate of President Andrew Jackson, the Hermitage, is just outside Nashville, TN. Paranormal activity has been documented here over a number of years. The Halloween Haunted Tour takes you through various areas of this National Historic Site, including the mansion, garden, the original cabin, and the cemetery. Scary tales include ghostly events of the Battle of New Orleans, and the legend of the Bell Witch.
The Hermitage Haunted Tour is available annually during the month of October.
Nashville timeshare rentals start at just $89/night.
3. Queen Mary. For a change of pace, join the ghost tour on the luxury cruise ship HMS Queen Mary, permanently docked at Long Beach Harbor, California. When it was launched in 1939, the Queen Mary was considered the grandest ship ever built, and all the elite of high society sailed on it. At the start of World War II the ship was re-fitted and ran as a troop ship throughout the war. With such a diverse history it's no wonder there are paranormal "hot spots" around the big ship. Visitors on the ghost tour have encountered forms of unnatural activity including audible sounds, smells, temperature changes, and even the occasional ghostly apparition.
You can join a Queen Mary ghost tour every Saturday night throughout the year. But during the month of October check out the extra-scary-special-for-Halloween "Dark Harbor" tour!
Southern California timeshare rentals start at just $67/night.
Photo Credit: colonialwilliamsburg.com
Categorized in: Andrew Jackson, Battle of New Orleans, Bell Witch, Colonial Williamsburg, ghost tour, halloween, haunted tour, Hermitage, Long Beach Harbor, Queen Mary, timeshare trip