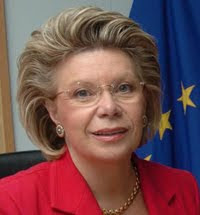 RCI Ventures magazine has posted an article by Steve Adams reporting that the European Commission (EC) is taking action to enforce timeshare protection. Recently we wrote about the Florida legislature's initiative for timeshare resale fraud protection. Owners of European timeshares face fraud as well.
The new EU rules (the Timeshare Directive) provide significant protection for consumers against timeshare contracts. "The EU agreed to these common rules to protect its citizens against unwanted timeshare or timeshare-like contracts," said EU Justice Commissioner Viviane Reding (see photo).
Now the EC has decided to step up legal action against Member States still to officially adopt the new Timeshare Directive. It is taking the action to ensure that consumers in Spain, Poland, Slovenia and Lithuania benefit from the protection granted under EU rules on timeshare sales. Cases against ten other Member States have now been closed after the countries concerned transposed the Directive into their national law.
"Member States have had more than two years to do their homework. I am therefore very disappointed that some of them, including Spain – which is a major tourist destination and which hosts a significant timeshare market – still fail to provide the required protection to our citizens."
All Member States were due to transpose the new Timeshare Directive into their national legal system by 23 February 2011. When 14 Member States (Belgium, Cyprus, Czech Republic, Finland, Hungary, Italy, Lithuania, Luxembourg, Malta, Poland, Slovakia, Slovenia, Spain, Sweden) failed to transpose the Directive on time, the EC opened infringement proceedings against them in March, 2011.
Ten of these Member States have since informed the Commission that they have taken the necessary transposition measures. However, Spain, Poland, Slovenia and Lithuania have not yet notified the Commission of any such measures. The Commission has therefore decided to send them reasoned opinions urging them to comply with the Directive within two months time.
"As soon as all Member States have notified their transposition laws, the Commission will carry out a thorough assessment of the overall quality and completeness of the transposition," stated Reding.
Photo Credit: rciventures.com
Categorized in: European Commisssion, Florida attorney general, Florida timeshare fraud, RCI Ventures, timeshares