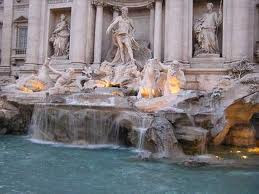 Rome is well worth visiting even if it seems like it might be a slightly expensive city. You can fly there pretty cheaply by using Easy Jet or even cheaper by using an easyjet holidays promotion code to get you there, and if you love holidaying it is one to visit.
Rome may seem like a daunting foreign city with a whole host of trains and buses that will take you all over the city for a small fee, but if you grab a city map you'll discover all the main attractions are actually close enough to walk between, and you could easily see 4-5 of them in one day depending on how fast you walk and how long you spend at each place.
One of the most famous places in Rome is the Coliseum. Once you are within a reasonable distance of it it's pretty hard to miss and it is only about a 15 minute walk from Termini Station. It is worth seeing both during the day and at night when they light it up.
The Roman Forums are on the way to, or back from, the Coliseum. I would recommend seeing them after the Coliseum as they are a nice addition to the history of the Coliseum.
Again within walking distance of Termini Station by an easy 20 to 25-minute walk is Trevi Fountain (see photo). This amazing fountain is well worth a visit at both night and during the day to get the full effect. The lights at night are really stunning and something you will remember for a lifetime. There is also a tradition of throwing a coin in the fountain which is meant to bring you back to Rome.
The Spanish Steps are just a short walk from Trevi Fountain, and again is an amazing sight. There are 138 steep steps, with the Trinità dei Monti church at the top. There is a small fountain at the bottom where you are meant to top up your water bottle. I'm not sure what the tradition behind it is but it's fun stepping out onto the fountain and it makes for a great photo.
The Panthean is another famous historical place worth a visit that will take your breath away, and it's also very close to Trevi Fountain. You can easily spend an hour here taking it all in.
The one thing you will never be far from, and is well worth a stop, is a Gelato shop. Italians are world famous for their sweet frozen gelato for a reason. I can't recommend it enough.
Take a look at Italy timeshare rentals and exchanges. And remember, if you don't see a timeshare rental now that you want, post a notice of what you're looking for on RedWishes.
Gareth Goddard is the owner of Get-Coupons.com, a money saving and discount code website that aims to help save money in all aspects of on-line and off-line life. He enjoys writing about
a variety of subjects and specializes in money saving and marketing articles.
Photo Credit: photos.igougo.com
Categorized in: Coliseum, Gelato, Pantheon, Redwishes, Roman Forums, Rome, Spanish Steps, Termini Station, timeshare exchanges, timeshare rentals, Trevi Fountain