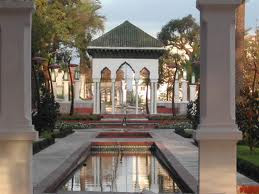 With winter already showing its chilly bite, now is the time to start planning a winter getaway to warmer climes. Have you considered a timeshare vacation to Morocco?
Past the beautiful Sahara Desert, the High Atlas Mountains, the belly dancers in Fez and your intimate riad, you'll find Tetouan nestled in the heart of Northern Morocco. Here you'll find a camel ride waiting for you, an endless stretch of beautiful beaches, and fortresses ready to explore. With many cultural and historical sites, Tetouan is one of Morocco's most valuable gems not to be missed.
The Beaches of Tetouan. The beaches are beautiful here, and the perfect place to relax, soak up some rays and unwind from a busy day of touring. With many beaches to choose from, there is bound to be one close enough for a walk or bike ride.
Riad Saada. Enjoy a night of great food and entertainment while you eat! A true Moroccan experience, you can't get more authentic than the Riad Saada. From belly dancing to an endless assortment of food (wait until you try their kabobs, grilled cakes and couscous) you'll feel part of the Moroccan culture instantly. There are also musicians here that give a great ambiance, as well as interesting architecture to keep you engaged.
Tetouan's Archeology Museum. For any history buff, the archeology museum shouldn't be missed. Within walking distance from the palace, al-Jala, you will find a museum chocked full of Roman ruin artifacts. Just be sure to check their website before coming here, as they close down for renovations from time to time.
Visit the Old City (Medina). Nothing can make you feel transported to what Morocco was at one time than strolling through the Medina. Muslim and Jewish refugees of the 15th century built walls in this city for protection and their fine craftsmanship fascinating to visitors today. Enjoy strolling through the Medina and try out unfamiliar but delicious fruits and vegetables, witness gorgeous architecture of the 15th century, mosques, and the tanneries.
Admire Tetouan's Towers. Many centuries ago, Tetouan was the city of towers. Today, 20 towers still exist which can be a great tourist destination for anyone who wants to be part of Morocco's history. Many of the towers are connected to the defensive walls while others you can find independently removed. Visit the Alisqalah tower (build in 1820) and spend some time admiring the tower in its grand splendor from the inside – a truly spectacular sight.
Exotic Morocco is an intriguing destination for any timeshare vacation. Check out the timeshare exchanges that are available in this beautiful country.
Thank you to our guest blogger, Heather J., who writes on behalf of Morocco Tours, your source for the Moroccan excursion of your dreams!
Photo Credit: tourlimoserv.com
Categorized in: Alisqalah, Morocco travel, Riad Saada, Tetouan, Timeshare Exchange