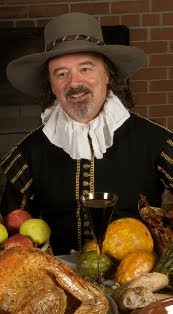 The tradition of our American Thanksgiving has a fascinating history, and at no place does that come more alive than in Plymouth, Massachusetts. To really become immersed in what the first Thanksgiving was all about, take a timeshare rental trip with your family to Plimoth Plantation.
Starting at the beginning – where the Pilgrims actually built their homes and began their new lives in the New World – Plimoth Plantation brings to life what it was like to live as the Pilgrims did in 1627.
A Pilgrim village, a Wampanoag homesite, and the Mayflower II are all part of the living museum of Plimoth Plantation. Set on the shore of Plymouth Harbor, Plimoth (the old English spelling) Plantation (a word that was used interchangeably with "colony") depicts a 17th century village that would have had only 200 residents, 60 of them children.
Museum docents dressed in 1627-style clothing, go about their daily business, from picking the last cabbages in the garden, to repairing thatched roofs, to mending a wool cloak. You can interact with these "residents" and learn history as each speaks to you as though you were a time-traveler to their "present" day.
Plimoth Plantation offers three different styles of Thanksgiving dinner from which you can choose.
The Harvest Dinner is a true journey into the past. This meal is the closest to what the pilgrims would have been eating in the early 1600s. The menu includes such items as "a beet sallet," "a dish of turkey, sauc'd" and "stewed pompion." During this meal, which is served on various weekends through October and November, you'll also learn 1600s table manners and be entertained with psalms and songs.
The Thanksgiving Day Buffet, available on the one day only, offers history lessons as well, but with a more modern "traditional" menu. The early Pilgrims would not have had sugar for pies, or fresh greens for tossed salads. But for this dining experience you'll not only have your choice of pumpkin or apple pie, and a fresh garden salad, but Cape Cod cranberry sauce (another item lacking from the pilgrims' table).

America's Thanksgiving Dinner is the third choice. Here you'll sit down with a classic menu of roast turkey with all of the New England trimmings. Cider cake and Ginger bread are also a part of the main course. While you enjoy your meal costumed Pilgrim role players and Native interpreters greet you. This dinner offering is available on both Thanksgiving Day, and on Friday.
Advanced reservations are required for the 3 different dinner plans, and tickets go on sale as early as June 1st. However, currently there are some reservations still available from Plimoth Plantation for two of the several seatings of the 2011 Thanksgiving Day Buffet. Budget-friendly timeshare rentals are available in Boston and on Cape Cod – both within easy driving distance of Plimoth Plantation.
Photo Credit: plimoth.org
Categorized in: Boston timeshare, Cape Cod timeshares, Plimoth Plantation, Plymouth MA, timeshare vacation