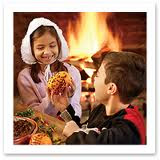 In the years after the Pilgrims had their first harvest celebration of giving thanks, a special Day of Thanksgiving feast had become an annual event throughout the colonies. Rent a timeshare and experience a Virginia Colony Thanksgiving Day in Colonial Williamsburg.
Williamsburg was actually a bustling town of 5000 souls after it became capital of Virginia Colony in 1699. During the American Revolution Thomas Jefferson, governor of the new Commonwealth of Virginia, moved the Virginia capital to Richmond where it would not be as vulnerable to British attack, and the town of Williamsburg began its slow decline.
However, for three quarters of a century Williamsburg was the hub of Virginia's political and social life, and many of America's forefathers lived, worked, stayed, and encouraged American Independence in Williamsburg, including Jefferson, George Washington, and Patrick Henry. When you visit Colonial Williamsburg for Thanksgiving, you'll be walking in the very footsteps of these and many other colonists who helped America become an independent country.
Restoration of Williamsburg as a prosperous colonial town of the 1700s was begun in the early 20th century as one of the largest historic reclamations ever undertaken anywhere in the world. Today you can visit The House of Burgesses where men of Virginia Colony gathered to champion American Independence, and dine at the Raleigh Tavern and the Kings Arms where George Washington and Patrick Henry discussed the day's events over a meal and a pint of ale.
Traditional Thanksgiving Dinner is served throughout the day in Colonial Williamsburg, where you can experience first-hand what Thanksgiving was like for the colonists 150 years after the Pilgrims began the tradition in Plymouth, MA. Unlike the Pilgrims, by this time the colonists had access to sugar for pies and for sweetening cranberries for sauce. Also made part of the traditional Thanksgiving dinner by the colonists was Virginia peanut soup, a rich and creamy appetizer that many who taste it today feel could well be the main course.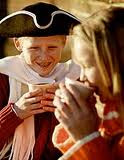 What you do find on the main course menu at the various Colonial Williamsburg taverns, however, is roasted turkey with giblet gravy, cornbread stuffing, cranberry chutney, and yams candied with delicious maple syrup – after starting your day with fresh pastries and bread baked at sunrise. Dinner at the Kings Arms Tavern also includes wines from French vineyards that were visited and written about by Thomas Jefferson in the 18th century.
As a living museum, Colonial Williamsburg gives you the unique opportunity to time-travel to the 1770s. You might encounter George Washington striding purposefully to the House of Burgesses, but always ready to stop and discuss the "current" political climate with you.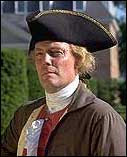 Or you could spot young red-haired Thomas Jefferson getting into a lively discussion with fellow colonists on a street corner, and he'll ask you what you think about the "current problems with Mother England."
From American Forefathers to a Colonial Feast, spending Thanksgiving in Williamsburg is a memory-making event of the first order for your entire family. You can find many Williamsburg timeshare rentals available for a comfortable and budget-friendly stay.
Photo Credit (top): colonialwilliamsburg.com
Photo Credit (center): homeschoolblogger.com
Photo Credit (bottom): history.org
Categorized in: Georgre Washington, House of Burgesses, Patrick Henery, Thanksgiving holiday, Thomas Jefferson, Virginia Colony, Williamsburg timeshare rentals