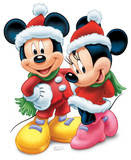 Are you Christmas shopping this Black Friday? For anyone on your Christmas list who has an Android powered smart phone, and enjoys a Disney timeshare vacation, the Disney fan website ChipandCo has put together a list of 5 Must-Have apps for the fast growing Disney Droid market. And the best part? Black Friday or anytime – all of these apps are Free!
Touring Plans is where you go to check out wait times for each ride and attraction. Check out "Crowd Calendar," while you're there, too. With this app you'll see which WDW park is the least crowded, and which to maybe avoid completely. Info for both WDW and Disneyland is updated by the minute.
U Stream Broadcaster. Before you leave for your vacation create an account and upload to your Droid phone. Now you can share your Disney vacation with your friends and family via a video stream from your phone. The stream goes straight to your account, so you aren't using your phone's drive space. The length of your video is limited only by your battery (so be sure to pack your charger!).
TimeStream Software "Walt Disney World Secrets of Gold." Although available only for WDW at this time, this app is sure to excite any Disney fan. Revealing over 200 magical and surprising secrets of Walt Disney World Resort, the app is an innovative guidebook. And because these "secrets" are arranged as a tour, complete with photos, it makes for an exciting new way to experience all of Walt Disney World. Also included is a fun bonus tour of over 80 Hidden Mickeys.
Carr Matey. This app is perfect for anyone who has ever had nightmares of forgetting where their car is parked among thousands of other cars at WDW or Disneyland. This simple program allows you to "drop anchor at your car and when you are ready to leave find your vessel again when it is time to embark." Now you can relax and enjoy your Disney day, knowing that at the end you'll be taken straight to your car!
TiKL-Touch To Talk. As any family or large group knows, keeping in contact while scattered about a Disney park is paramount for keeping the trip organized, and simply for peace of mind. Most of us these days use cell phones. However, this app allows your phone to act as a walkie-talkie – quick and easy communication without the dialing or the texting- at the press of a button.
Since you've been able to get these 5 apps for free for those on your Christmas list, how about throwing in a budget-friendly timeshare rental for a Disney vacation? Orlando timeshare rentals start at just $53/night and Disney timeshare rentals start at $130/night. Headed to Disneyland? Anaheim timeshare rentals start at just $73/night.
Photo Credit: tvguide.com
Read the entire ChipandCo article.
Categorized in: Anaheim timeshare, black friday, Disney timeshare, Orlando timeshare rentals, timeshare vacation