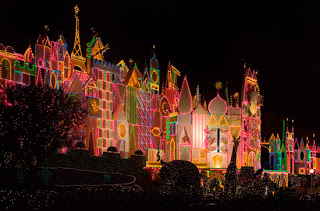 Disneyland Resort's manager of media relations, Betsy Sanchez, posted the following article on the Disney Parks Blog.
Gunnery Sgt. Derrick Poteat, a veteran of Operation Iraqi Freedom from the 13th Marine Expeditionary Unit's S-6 communication platoon, and his family "flipped the switch" on more than 300,000 lights blanketing It's a Small World," transforming the popular attraction into a visual wonderland and officially launching the holiday season at the Disneyland.
The festive ceremony, presented by the attraction's sponsor, Sylvania, honored Poteat and his family for the contributions they have made to our country. Poteat, who enlisted in the Marine Corps in 1996, has completed three tours and recently returned from the latest, a seven-month deployment in the Middle East. He was joined by his three children, nephew, niece and wife, Clarice, an advisor to the 13th Marine Expeditionary Unity's family readiness team, for a day of play at the Disneyland Resort followed by this special honor.
Tune in to the video below to see how the holidays were made especially bright for the Poteat family.
Now that the holidays are official at Disneyland and at Walt Disney World, it's time for you to take your family and immerse yourselves in the excitement of Christmas that only Disney can offer. Mickey's Very Merry Christmas Party is well underway, along with Dickens carolers on Main Street USA, hot chocolate with peppermint sticks, Christmas cookies waiting to be decorated by your kids, and even a magical snowfall at night. How does Disney pull all of this off? Only the magical Mouse knows!
A Disney Christmas is an exciting, enchanting experience not to be missed. Rent an Anaheim timeshare for your visit to Disneyland. In Orlando, when you head to Christmas at all of the resorts that make up Walt Disney World, rent a budget-friendly Orlando timeshare or Disney timeshare. And have the time of your life this holiday season!
Photo Credit: disneyparks.disney.go.com
Categorized in: Anaheim timeshare, Disney timeshare, Disneyland Christmas, holiday season, It's A Small World, military, Orlando timeshare, Walt Disney World