'Tis the season for holiday feasting – prime rib, roasted turkey, baked ham. Add homemade fudge, Christmas cookies, flaming bread pudding – and it's time to get back to the basics. Food and Wine's online magazine has listed its picks for the top places in the U.S. to find a great pizza. Each one of the 6 pizzarias listed below is near a timeshare rental – so here's your chance to take a break from rich holiday fare, and chow down on just some really good pizza.
1. Boston, MA. Santarpio's Pizza. This super traditional pizzeria, with wood paneled walls covered with pictures of famous athletes, has been around for more than a century. Signature Item: Homemade Sausage Pie.
Rent a Boston timeshare, or budget timeshare rentals within easy driving distance, including Cape Cod.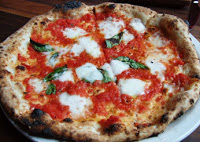 2. San Francisco. CA. Flour + Water. Their puffy, charred cornicione (end crust) is the result of just two minutes in the 800-degree wood-burning oven imported from Italy. Signature Item: Margherita – with tomato sauce, Fior di Latte (an especially flavorful type of mozerella), and extra-virgin olive oil.
Take a look at San Francisco timeshare rentals.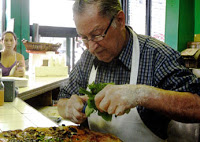 3. Brooklyn, NY. Di Fara. 72-year-old owner Domenico DeMarco (see photo) makes all the pies at this Brooklyn pizza mecca, so they come out with the perfect balance of tomato sauce (made fresh daily), mozzarella, and Grana Padano cheeses. You can find a Di Fara spin-off called Tagliare at LaGuardia Airport. Signature Item: Plain Pie.
Stay in New York City timeshare rentals for up to half the price of the city's hotels.
4. Los Angeles, CA. Pizzaria Mozzo. This powerhouse team combines the best California ingredients (squash blossoms, trumpet mushrooms) with Italian tradition (big wood-burning ovens and house-made mozzarella) to form L.A.'s best pies. Signature Item: Squash blossoms, tomato and burrata (a fresh Italian cheese made from mozzarella and cream).
Check out these budget-friendly California timeshare rentals.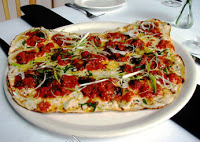 5. Providence, RI. Al Forno. In 1980, this pizzaria launched a new era of ambitious cooking in Providence with their thin-crusted grilled pizzas topped with superfresh ingredients. Signature Item: Margarita – with house-made pomodoro (a thick sauce that uses diced fresh tomatoes), fresh herbs, two cheeses and extra virgin olive oil.
Rhode Island has many budget-friendly timeshare rentals from which to choose.
6. Phoeniz, AZ. Pizzaria Blanco. The pizzas here are arguably America's best, with beautiful, wood-fired crusts made with organic flour, fresh mozzarella and house-made sausage. There's almost always a line out the door. Signature Item: Marinara pizza (star pizzaiolo Chris Bianco's favorite).
Stay in a Greater Phoenix timeshare rental and enjoy a warm winter getaway along with your pizza.
Read Food and Wine's entire article for all 25 of their best pizza picks.
Do you have a favorite pizza place? Tell us what and where!
Photo Credits: foodandwine.com
Categorized in: best pizza, Boston timeshare, Greater Phoenix timeshare rentals, San Francisco timeshare rentals, timeshare rentals