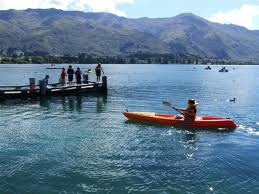 Christmas in the Southern Hemisphere has a completely different feel than in other climes and can make for a delightful change of pace for a timeshare rental vacation as Christ's birth is celebrated and the New Year is rung in. One spot that is proving to be increasingly popular for Christmas is the alluring Lake Wanaka region on New Zealand's South Island.
The town of Wanaka sits at the lake's southern edge, and can be a particularly delightful destination during early summer that surrounds Christmas Day in the lower hemisphere. The town is surrounded by mountains that beckon one and all for hiking and camping. The lake covers 193 square kilometers and is a favorite spot for numerous outdoors activities, from jet boating to sailing, from kayaking to water skiing, all of which are possible at Christmastime in New Zealand.
In the hills and mountains that ring the lake in breathtaking fashion, many tourists try canyoning (guided deep descents into canyons), climbing and even skydiving. Others fish the lake's waters for an abundant catch – which you can cook up in your own timeshare kitchen – before scouring the town for its noted bars and restaurants. The clear blue waters and skies set a relaxed and invigorating tone for this resort town, which forecasters predict will continue to boom due to its enviable lifestyle.
Wanaka also abuts Mount Aspiring National Park, a vast wilderness set aside for all manner of outdoor activities in both organized and informal modes. After exploring the park, many tourists spend the evening in town, and it's an easy walk to shops and restaurants from most accommodations. In addition, taxis and bikes are readily available for in-town excursions, but if you want to explore more of the cultural richness and rugged beauty of South Island, you should rent a car to ensure maximum flexibility in your schedule. There are many Queenstown car rental depots around the airport if you are flying in there.
Leading up to Christmas this year, Wanaka will welcome the Auckland ensemble Carolina Moon, a heralded group that loves to breathe new life into fiery ancient melodies with a fusion of past and present musical styles. The group's latest CD continues a tradition of conveying the gorgeous songs of Judeo Spain, which have spread across the world for almost a millennium. Blending Spanish, Hebrew and Arabic flavors with a twinge of jazz, Carolina Moon will perform on December 17 at The River House in Wanaka.
In the days immediately before the big holiday, the local churches of Wanaka offer special services for those who want to awaken their spiritual side before this sacred day. Shops will offer their yearly specials as they seek to capitalize on the season of gift giving and also reduce their year-end inventories.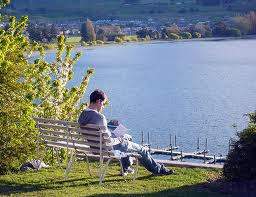 Christmas in Wanaka is not a cold winter day spent indoors around a fire. After spending the days before and after December 25 in pleasant temperatures warmed by the southern sun, you might not want to go back to being homebound during December's final week. Wanaka will change the way you see the entire season as you get a jump start on your New Year's resolutions to be fitter and happier.
Check out Wanaka and other New Zealand destinations for timeshare rentals and exchanges.
Thank you to Omega Rental Cars for submitting this guest blog. Omega is a New Zealand car hire company which specialises in providing late model rental cars at bargain prices. They have depots through New Zealand, including their Christchurch car rental depot.
Photo Credit (Top) : odt.co.nz
Photo Credit (Bottom): sandybarker.com
Categorized in: New Zealand, New Zealand timeshare rentals and exchanges, timeshare exchanges, timeshare rentals, Wanaka