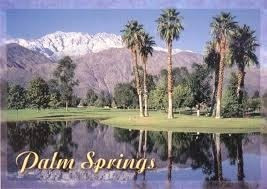 If you're wondering where the perfect warm-weather destination is to plan a holiday vacation – there's a Party going on in Palm Springs! Beautiful this time of year, with its verdant green valley surrounded by snow-covered peaks, Palm Springs offers a timeshare vacationer more than just the sun's warmth.
Nestled in the Coachella Valley of California, Palm Springs brings up images of celebrities, sun, and fun. Whether you like shopping at high end stores or hiking through beautiful valleys, here are the 8 best places to see while on your timeshare Palm Springs vacation.
VillageFest. Every Thursday night from 7-10 pm Palm Canyon Drive shuts down its streets to cars and a street fair takes over. Artists set up shop along the street selling anything from wood carvings to photographs. Grab some kettlecorn from a street vendor and spend some time people watching.
The Fabulous Palm Springs Follies. The Fabulous Palm Springs Follies is a throwback to the Broadway shows of the midcentury featuring song, dance, and comedy by the Long-Legged Lovelies and the Follies Gentlemen, all ranging in age from 58 to 82!

A special holiday production "Christmas in Folliesland" is performed 8 times/week through December. On December 31, the Follies presents two special New Year's Eve performances, each with a glittering champagne reception, hats and noisemakers.

Agua Caliente Indian Canyons. Even in the hot California sun, the Agua Caliente Indian Canyons can't be missed. The Palm Canyon Trail is an easy three mile hike with beautiful scenery ending at an oasis, a great place to bring a lunch.
Palm Springs Art Museum. The Palm Springs Art Museum boasts a variety of modern art, from a glass exhibit to sculpture gardens. With admission free on Thursday nights, it's an ideal end to an evening spent at VillageFest.
Walk of the Stars. Hollywood may have been the first to immortalize stars on sidewalks but only in Palm Springs can you find Marilyn Monroe alongside Earl C. Strebe (Who? Exactly!)
Palm Springs Cemetery. If you're looking for a different kind of tour of the stars, head over to the Desert Memorial Palm Springs Cemetery. Take a personal tour of the final resting places of Frank Sinatra and Sonny Bono, among others.
Palm Springs Air Museum. Whether you're an aviation fan or not, this museum is not to be missed. The museum is housed in an air conditioned hangar to preserve the still usable WWII airplanes, one of the largest collections in the country.
Living Desert Zoo and Gardens. Located right outside Palms Springs in Palm Desert, the Living Desert Zoo and Gardens is not your momma's zoo. Displaying animals indigenous to desert environments, watch Mexican Wolves and Reticulated Giraffes frolic in the sand and sun.
Many budget-friendly timeshare rentals are available throughout the Palm Springs area – great for honeymoons, retirees, family reunions, and especially a Christmas winter getaway.
Heather Johnson writes for HoneymoonDestinations.org, the best honeymoon research and planning website. Discover some great honeymoon ideas today!
Categorized in: holiday timeshare vacation, holiday travel, Palm Springs timeshare, warm-weather vacation