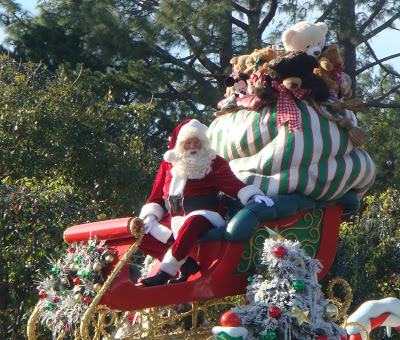 One of the most magical places on earth to celebrate Christmas is – the Happiest Place on Earth, Disneyland! When you rent a California timeshare and spend some of your Christmas holidays with Mickey and the gang, you'll be making non-stop memories to last a life time.
Erin Glover, of the Disney Parks Blog, put together a list of fascinating facts that you might find interesting when you head to your Disneyland Christmas vacation.
The Disneyland Christmas tree in Town Square stands 60 feet tall and has 280,000 pine-tip branches. It is decorated with more than 2,000 ornaments, including the three-foot star on top, and nearly 4,800 energy-efficient LED lights.
When Sleeping Beauty's Winter Castle show reaches its finale, more than 60,000 LED lights and 1,200 strobe lights combine to create the effect.
The graveyard in the Haunted Mansion Holiday finale is covered with 7,500 square feet of snow. Trees in the graveyard are decked out with 1,000 tiny orange lights.
Decorators use 50,000 Christmas lights on the façade of"it's a small world" Holiday and an additional 200,000 mini-lights in the trees, hedges and topiaries surrounding the attraction.
Each performance of "A Christmas Fantasy" parade features 105 performers, 18 float drivers and 12 musicians. With daily parade performances, it takes approximately 200 performers to stage the parade during the holiday season.
Special holiday experiences your entire family will enjoy at Disneyland include:
A snow-capped Sleeping Beauty Castle shimmering with icicles and lights
"It's a small world" Holiday
"A Christmas Fantasy" Parade
"Believe… In Holiday Magic" fireworks show
Santa's Reindeer Roundup in Frontierland
Haunted Mansion Holiday
With Christmas almost here, take a moment to relax, and enjoy a look at this year's Disneyland "A Christmas Fantasy" Parade.
Merry Christmas from RedWeek to all of our wonderful members! Happy Timeshare Traveling!
Categorized in: Anaheim timeshare, California timeshares, Disney Christmas, Disney timeshares, holiday travel