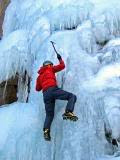 For many people there is still some time left of Christmas Vacation, Winter Break, Holiday Time, or whatever you want to call this wonderful week off between Christmas and New Year.
Some of you might be thinking about a timeshare beach trip, but many of you are probably anxious to hit the slopes with all of that new winter sports gear you just unwrapped.
There's one place that has it all – Colorado and its majestic Rocky Mountains. With the many budget-friendly Colorado timeshare rentals available, you can afford to make this year-end winter vacation a spectacular one.
As every skier knows, the Rocky Mountains are home to world-class skiing, From Breckenridge to Vail to Steamboat Springs, the number and variety of runs, with the extraordinary Colorado powder, can't be equaled.
But if you're the adventurous type, you may want to try a couple of winter sports that are a somewhat out of the box.
1. Ice Climbing (see photo). As if rock climbing and mountain climbing weren't strenuous enough sports, now there's ice climbing. These winter climbs on vertical walls of frozen water are becoming increasingly popular with traditional climbers and adventurers alike.
Vail has one of the most popular ice climbing and mixed climbing areas in Colorado, and is, in fact, considered the birthplace of modern mixed ice climbing.
Without a doubt, however, Ouray is the premier ice climbing destination in Colorado, where you'll see more ice climbers than any other place in the world. The Ouray Ice Park has 14 distinct climbing areas included in over 3 miles of vertical terrain. More than 200 ice and mixed climbs range from beginner to expert.
A Ouray bonus is the natural outdoor hot springs where you can relax in steaming water and soak those sore muscles after your climb.
For Colorado ice climbing news, conditions reports, and destination descriptions go to Mountain Project.
2. Backcountry Snowboarding. A true snowboarder agrees that snowboards were not meant for a crowded, groomed ski slope. The backcountry is where the snowboard is most at home, where it can carve its own path through virgin powder. The trick is getting out there. The answer is the splitboard. This innovation creates a pair of skis for climbing the mountain slopes into the backcountry, which then slide back together and become the snowboard for the downhill run.
While you must remain vigilant for adverse snow conditions, and the smart splitboarder always checks with the official snow conditions report and off-path warnings, often you can find untracked snow 10 or 15 minutes from the ski runs. The backcountry of the Rocky Mountains is a snowboarder's dream.
The concept of splitboards gained popularity first in Europe, where most splitboards are manufactured. However, Colorado has its own custom-made splitboard company, Cold Smoke Splitboards, and we thank them for this magnificent video that is sure to whet your appetite for serious backcountry snowboarding. And always remember – safety first.
Rent a Colorado timeshare now, and jump into the spectacular winter sports that only Colorado can offer.
Categorized in: Christmas vacation, Colorado backcountry, Colorado timeshare rentals, Colorado timeshares, ice climbing, snowboarding, splitboards