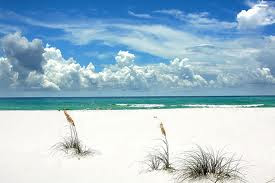 If you are like many people, you go to the same beach every year; you have your favorite restaurants, your favorite resorts, and your favorite activities. But have you ever wanted to try something new? Check out the great timeshare vacation destination of Destin on Florida's stunning Emerald Coast, with its amazing emerald-green waters and white sugary-sand beaches. Here are four ways you can enjoy your trip with the kids to Destin, Florida.
#1 Sand Sculpting
Sand sculpting lessons creates a whole new definition for playing in the sand. There just happens to be a guy in Destin, Mark Flynn of Sand Odyssey, who is a professional sand sculptor and gives lessons to groups, families, kids, or anyone else who's interested in his art form. It's a great team building activity that your kids will take with them for the rest of their lives. Imagine being the best sand castle builder on the beach, every year! From erecting perfect sand castle walls and arches to creating doors, windows, and staircases, this is a unique skill that will truly impact your children's vacation in a very positive way.
#2 Deep Sea Fishing
There are tons of fishing charter boats in Destin just waiting to take you and your kids out on the ocean and teach them to fish! You can take a half-day or full-day out at sea, and many boats have restrooms, showers, and indoor cabins, complete with televisions and kitchens. Most of the time all you'll need to bring is sun block and your lunch—they provide everything else for you. You can even have your catch cleaned right on the boat and take it back to your timeshare rental and cook it for dinner. One of the best memories I have as a child visiting the beach is going deep sea fishing with my dad and grandfather.

#3 Water Adventures
A parasail ride over the ocean is you'll a view you've likely never had before. Looking straight down into the water to see the tops of manta rays gliding through the water is truly an unforgettable and inspiring site. Other water sports that you may not have thought of include riding the banana float, taking a ride in a party speed boat (I recommend the Sea Screamer in Panama City Beach), or even jet skiing (kids can ride on the back with mom and dad!).
#4 Glass bottom boat cruise
This is a great activity to do with the kids. On this type of boat, you can sit comfortably above water with your kids safely beside you, gazing at the ocean beneath the glass bottom of the boat. Children love this, as it provides an opportunity for them to actually see the marine life in the ocean.
There are great timeshare rentals and timeshare exchanges in Destin, Florida, just waiting for your next family beach vacation.
Our guest author, John, is the owner of DestinFlorida.org, which reviews the restaurants, accommodations, golf courses, shopping, nightlife and more. Visit the site today to learn about more things to do in Destin.
Photo Credit: best-beaches.com
Categorized in: Destin FL, Destin FL timeshare rentals, things to do in Destin FL, timeshare exchanges, timeshare rentals