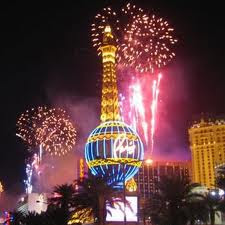 Christmas is now behind us, but that doesn't mean we're done celebrating the holiday season. Next up – New Years. If you're looking for a great spot to party-hearty on New Year's Eve, head to the "Party Capital of the World" – Las Vegas. With budget-friendly timeshare rentals galore, this is the place to be to ring in the New Year.
The nightclubs, the hotels, and the city all offer New Year's Eve parties and celebrations that run the gamut, so you're sure to find an exciting way to greet the New Year.
An example of a New Year's Eve celebration at a major hotel/casino is the Stratosphere, where no less than four different parties are offered. Whether it's contemporary music, or jazz, or high-energy dancing, or a gourmet dinner, each of these celebrations, held on different levels of the hotel, will give you the best view in Las Vegas for the city's spectacular fireworks that start at midnight.
The party that takes place in downtown Las Vegas under the dazzling lighted canopy of the Fremont Street Experience rivals that of New York's Times Square. You can party all night to the sounds of several popular live bands and watch fireworks on a gigantic Viva Vision LED screen.
Experienced Las Vegas New Year's Eve party-goers offer several tips to help you enjoy the night:
1. The Strip (officially Las Vegas Boulevard) is closed to cross traffic by the Las Vegas Metropolitan Police on New Year's Eve, beginning at 6pm, between Sahara Avenue and Russell Road.
The best way to get around The Strip on this super-crowded night is by taxi, walking, or taking the Las Vegas Monorail which runs behind most of the casinos. And this way everyone in your group can party since you won't have to worry about having a designated driver.
2. If you'll be walking along The Strip, watching the outside light show on Freemont Street, or viewing the midnight fireworks from an outdoors vantage point – dress warmly. Remember, Las Vegas is in high desert country, which means chilly nights during the winter.
3. The city of Las Vegas goes all out for its spectacular midnight fireworks show – a once-in-a-lifetime New Year's Eve experience you won't want to miss. But with the streets and sidewalks jammed with people, and lots of tall buildings in the way, for best viewing you'll need to plan ahead and find a spot that's elevated above the street – a hotel, a high-rise, or even a parking garage will do.
Las Vegas timeshare rentals start at an amazing $57/night.
Photo Credit: discotreats.com
Categorized in: Freemont Street, Las Vegas New Year's Eve celebrations, las vegas timeshare rentals, Stratosphere, timeshare rentals