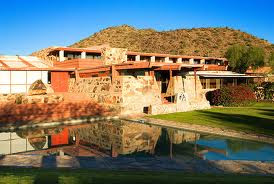 TripAdvisor has come out with its list of the top 15 "destinations on the rise" for 2012. Six of these destinations are where RedWeek members have timeshares listed for rent, exchange, or resale. We'll look at these great vacation spots in a 3-Part series.
3. Scottsdale, AZ. For an amazing winter getaway, you can't beat this destination where near perfect temperatures and splendid natural scenery reign supreme. Here there are more than 200 golf courses, plus spas, galleries, and amazing cultural attractions.
Taliesin West (see top photo) is the winter home of Frank Lloyd Wright, which he and his wife turned into an accredited architectural university. Here you can take the 90-minute Insights Tour of the highlights of this working school campus, including the office in a small building made of stone walls and a stretched canvas roof.
You'll also see Frank Lloyd Wright's private residence, the Kiva used for entertainment and meetings, the Music Pavilion, and the Cabaret which is partially underground, and it's known for its acoustic qualities.
The Musical Instrument Museum (the MIM) is just 15 minutes from Scottsdale, and is "The Most Incredible Museum You'll Ever Hear!" The MIM showcases musical instruments from around the world, as well as historical insights into the development of musical instruments. You'll wear a wireless headset and as you approach each display audio and video clips familiarize you with the unique sounds of each musical culture. Videos playing on high-resolution flat screens allow you to see instruments performed, such as Japanese taiko drummers, Somalian seed gourd dancers, and a hurdy-gurdy man.
The McCormick-Stillman Railroad Park is a 40-acre railroad park that features a 15″ gauge railroad, a Magma Arizona Railroad locomotive, a railroad museum, three model railroad clubs and a 7.5″ gauge live steam railroad. A popular exhibit is the plush Roald Amundsen Pullman Car that was constructed in 1928 at a cost of $205,000 and was used by Presidents Herbert Hoover, Franklin Roosevelt, Harry Truman, and Dwight Eisenhower.
Check out timeshare rentals, exchanges and resales available in the Scottsdale area.
4. Pigeon Forge, TN. This destination set beside the misty blue of the Great Smoky Mountains National Park is also the home of Dollywood.
The Great Smoky Mountains National Park is the most popular of all National Parks in the U.S. It offers over 800 miles of trails for all levels and all interests, including trails for walking, hiking, biking, and trails for horseback riding.
While it is splendid in autumn, it is so spectacular in the spring that it's also known as the Wildflower National Park, with its 1660 different species of blooming wildflowers.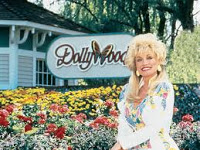 Dollywood, started by singer Dolly Parton, is open only 9 months – late March through January. It has won 15 major theme park awards, more than any other theme park in the U.S. The 150-acre park offers more than 40 rides and attractions; live entertainment featuring country, bluegrass, gospel and mountain music; and numerous crafters authentic to the East Tennessee region.
Check out timeshare rentals, exchanges, and resales in the Pigeon Forge area.
Photo Credit (Top): blog.scottsdalecvb.com
Photo Credit (Center): activerain.com
Photo Credit (Bottom): dollywood.com
Part 1: Nashville, TN, and Fort Meyers, FL
Categorized in: Dollywood, McCormick-Stillman Railroad Park, Musical Instrument Museum, pigeon forge timeshares, scottsdale timeshares, Taliesin West, Timeshare Destinations