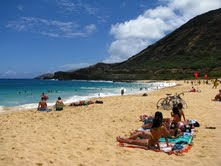 There is a lot to see and do on Oahu where Hawaii's capital and largest city – Honolulu – is located, and we're going to take a look with our guest author, Karl, in a 2-Part series.
Oahu has much to offer from distinctly local activities and attractions to those that incorporate deep cultural influences from Asia and other parts of the world.
While Hawaii has a deeply entrenched reputation for being an expensive to visit and lacking in substantive experiences that give visitors a true "island experience," that is usually only true for people without insider knowledge who fail to leave the tourist-centric and superficial confines of Waikiki.
To help you get the most out of your timeshare rental trip to Oahu, here are some great insider tips to get you started:
Snorkeling: No trip to Oahu is complete without a snorkeling excursion. Many tourists pile into Hanauma Bay, but the experience there can be overwhelming (and not in a good way). Don't buy into the hype. Nearly every beach on Oahu has a wealth of undersea life to explore. For the best experience on the island, take a trip to Sharks Cove on the North Shore. There are no sharks at the cove, but just about every other form of marine life is present. Downside: The water is too rough to snorkel in winter.
Off-the-beaten path beaches: Waikiki has some wonderful beaches, but there are also un-crowded gems surrounding the island. Try Sandy's on the southeastern tip of Oahu – it's a world-class body surfing spot. Or, travel up the east side to Lanikai and Kailua beaches for gorgeous views and don't miss Mokule'ia on the northwest corner of the North Shore – it's where the television show "Lost" was shot. The North Shore also hosts Lanikea Beach – also known as Turtle Beach – where giant green sea turtles sun bathe en mass and swim just off-shore.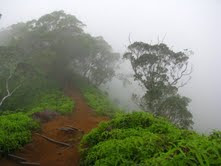 Go hiking: There are many trails around Oahu that take hikers into the rainforest or to panoramic vistas. One of the most accessible hikes is to the top of Diamond Head crater. For $1 you can sweat it out on a moderately difficult hike from the inside the crater to the top for sweeping and majestic views of the city of Honolulu and Waikiki.
About our guest author:
Karl N. is an avid traveler, and someone who loves an adventure. Karl also enjoys spending his time writing. As you can see, he is an enthusiastic fan of Hawaii. For this very reason he decided to write up a guide for would-be Hawaii travelers. Be sure to visit the Hawaii Travel Guide to learn about the Hawaiian Islands or visit the Oahu Travel Guide for more information on Oahu.
Categorized in: Hanauma Bay, Honolulu, Oahu, timeshare rentals, timeshare vacation, Waikiki