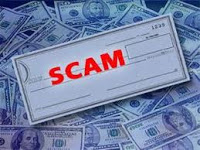 The Better Business Bureau (BBB) investigates thousands of scams every year, from the latest gimmicks to schemes as old as the hills. As the New Year begins, the BBB looked at the most prevalent problems in 2011. And once again "Timeshare Scams" is in the Top Ten.
While timeshare owners continue to be frustrated with not being able to sell their properties, they are, thankfully, becoming more savvy. The media focus on timeshare scams has alerted many people to the perils of accepting any offer over the telephone that requires an up-front fee. But that means the scammers are also becoming more sophisticated.
In 2011, the BBB reports, many consumers fell victim to a very specific timeshare scam. Victims received a call out of the blue offering a generous price for their Mexican timeshare property. The buyer offered to handle the transaction for no money up front and made the process simple and easy for the consumer, emailing all necessary documents and providing a supposed independent escrow account to act as a secure third party.
In time, various international taxes and other ambiguous fees were assessed to victims, while the timeshare company promised reimbursement at the time of sale. Thousands of dollars later, both the buyer and escrow company disappeared, taking with them the consumers' money and trust.
Another example is a California-based company named Transfer Smart that mailed too-good-to-be-true timeshare resale offers to people across the United States. In the letter, Transfer Smart promised to "get you out of your Timeshare Forever!"
A response led to a meeting with the company where they then pressured the victims to write a check on the spot to sell their timeshare.
And then there's the timeshare scam that hits you twice.
Good news for beleaguered timeshare owners who want to sell is that Pam Bondi, Florida's Attorney General, has announced her support of the "Timeshare Resale Accountability Act," which passed the business and consumer affairs subcommittee of Florida last week.
Timeshare fraud is a top complaint in Florida, and with this bill, state rules and regulations will be tightened. The new bill requires companies to disclose the names and addresses of potential buyers.
The Timeshare Crusader, Lisa Ann Schreier, has these 5 simple tips for anyone wanting to sell their timeshare:
1. YOU should make the first contact (be it telephone, mail, or email).
2. YOU should maintain as much control as possible over the dealings.
3. YOU should get everything in writing.
4. YOU should check the company's name with the BBB, and with the Real Estate Commission in the state where the company is based.
5. YOU should NEVER pay any money up front no matter what plausible-sounding reason you are given by the company.
If you're wanting to sell your timeshare list it as a timeshare resale on RedWeek.com. You remain completely in control of the transaction.
Photo Credit: impactlab.net
Categorized in: BBB, Better Business Bureau, The TImesahre Crusader, timeshare resale, timeshare resale scams