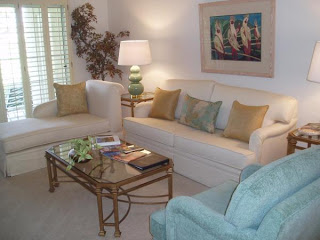 The 4 Seasons at Desert Breezes Resort in Palm Desert, CA, has earned the RCI Gold Crown Resort Property Designation, it has been announced by Trading Places International (TPI), the resort's managing company.
Only a select number of RCI affiliated resorts meet RCI's requirements for recognition and have earned the RCI Gold Crown Resort award. These resorts have attained high levels of excellence in resort accommodations, hospitality and member experience as measured by RCI.
"4 Seasons at Desert Breezes Resort is honored to have achieved this prestigious RCI designation," said Tom Newman, director of Resort Operations at TPI.
"The association's board of directors, through diligent planning and oversight and working with its managing agent, Trading Places International, plan to maintain this Gold Crown status by providing owners and guests the quality accommodations and services we are known for."
"Trading Places International is honored to work with the many 4 Seasons owners who have continually supported the efforts to achieve excellence over these past years that have resulted in the Gold Crown designation," said a TPI spokesperson.
Situated at the base of the Santa Rosa Mountains, this luxury resort greets you with beautiful grounds, swaying palm trees, and a reflective lake. Ten buildings feature studio, one-, and two-bedroom timeshare accommodations. Each Mediterranean style villa has a fully equipped kitchen and cozy furnishings.
Activities abound, including 5 tennis courts (three are lighted for night-time play), three pools, eleven Jacuzzis, as well as a game room, a putting green, and an exercise room. The resort also features gas barbecues for your own personal evening cookout.
A must-see nearby attraction is Living Desert Zoo an Gardens State Park, and indoor/outdoor living museum with entertaining and educational exhibits and presentations such as Grecko Gulch, Wildlife Wonders, and Village Wa TuTu.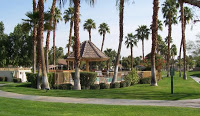 Reviews include:
Many upgrades and improvement have recently been made at this complex, making it very desirable. It has a little of everything you want and need. Greenbelts, pools and spas, BBQ areas, tennis. Wifi, and golf privileges at Woodhaven near by. Try it you'll like it.
Fabulous new Kitchens and New Bathrooms…With New Granite Counter-tops and Stainless Steel appliances. This Remodeling Project made all the units very appealing and we greatly enjoyed our time in Palm Desert.
RCI's Resort Recognition Program helps ensure that our RCI affiliated resorts adhere to RCI's standards for accommodations, hospitality and member experience," said Gordon Gurnik, president of RCI. "We are thrilled to recognize those who have attained this designation and continue to work to offer top vacation destinations to our 3.7 million members worldwide."
Palm Desert timeshare rentals are the perfect getaway for a warm, sun splashed winter vacation. The 4 Seasons at Desert Breezes Resort has timeshare rentals that start at just $100/night, and resales starting at $8000.
Categorized in: 4 Seasons at Desert Breezes Resort, Branson timeshare rentals, Palm Desert CA, RCI, timeshare resales