If you're going to be spending some time on your timeshare vacation Downunder, you don't want to go back home without visiting a few places in the neighbourhood. Since you've already come all the way to the South Pacific, you owe it to yourself to visit some places that aren't Australia.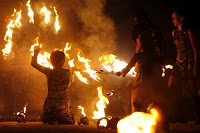 1. Fiji.
Fiji consists of over 300 beautiful islands that are scattered over 20, 000 square miles of our lovely planet. A Fijian holiday is most appropriate for those who like island activities such as scuba diving, surfing, bush walking in rainforests, and of course, relaxing and soaking up the sun.
If you are fond of diving, make sure you pay a visit to Koro Sun Dive on the island of Vanua Levu, the home of Savusavu which is known as "The Hidden Paradise", one of the best scuba diving destinations in Fiji.
A must-see place is the Mariamma Temple in Suva (Fiji's capital city), on the island Viti Levu, where the extraordinary Fiji cultural ritual, the South Indian fire-walking festival (see photo), is held each year during either July or August.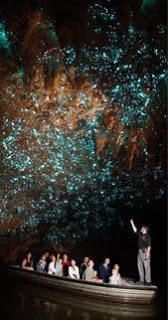 2. New Zealand.
A holiday in New Zealand can really overwhelm you due to the sheer number of tourist activities that you must take part in for a complete "New Zealand holiday experience."
Starting in the North Island, Auckland is an absolutely must-visit. Auckland offers activities like the Waitomo Glow Worm Caves (see photo) – a must see for any traveller. Enjoy the world famous boat ride under thousands of magical glow worms and become a part of over 120 years of cultural and natural history. The actual glow worms – Arachnocampa luminosa – are unique to New Zealand.
Lake Taupo is one of New Zealand's most popular vacation destinations. Covering a surface area of 238 square miles, Lake Taupo is New Zealand's largest lake. However, it actually is a volcanic caldera, created by a super volcano that erupted more than 26,000 years ago.
If you get a chance to visit the South Island as well, try to see Akaroa, Blenheim, Christchurch (so pretty!), Dunedin, Fox Glacier, Franz Josef Glacier and Picton.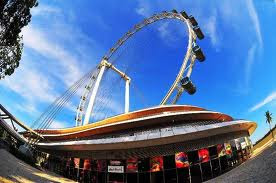 3. Singapore.
There is a heck of a lot you can do in Singapore and there is a very little chance that you would get bored.
The famous Orchard Road is perhaps the first tourist destination that attracts most of the travellers. Here you will find all kinds of couture labels such as Chanel, Louis Vuitton and Gucci.
If you're a real fashionista you also won't want to miss Haji Lane. Hidden away in the heart of the Muslim quarter, this tiny lane of used-to-be shop houses has been redesigned into a stretch of hip retail clothing stores.
A must-see attraction is The Singapore Flyer (see photo) – the world's largest observation wheel. Standing at nearly 500 feet from the ground, the Flyer offers you breathtaking, panoramic views of the city of Singapore and Marina Bay.
Make sure you've got your travel insurance for all of the countries you are planning to visit, just in case, and hit the road! You may not be able to visit all of these places, but get to where you can – and take pictures!
Our guest author is Geoff Gerard who is the director of travel content for CoverMore. He has traveled ever since he graduated from high school and probably won't return to Australia to settle down until social pressures build up to a point where he can no longer not have a family and a desk job. He is a lucky and happy man.
Photo Credit (Fire Festival): amusingplanet.com
Photo Credit (Waitomo): http://www.waitomo.com
Photo Credit (Singapore Flyer): goseasia.about.com
Categorized in: Australia, Fiji, New Zealand, Singapore, timeshare vacation