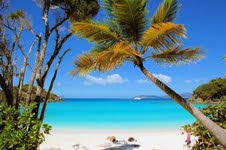 The "Caribbean Season" is in full swing. If you're looking for the perfect winter getaway for a timeshare rental vacation you can't beat the white sand beaches, glittering turquoise waters, swaying palm trees, and overall tropical paradise of the Caribbean.
While you'll find all that on any of the islands, each island also offers its own unique version of a great vacation. Here are three different examples:
1. Barbados. This is considered one of the top Kid-Friendly islands in the Caribbean. If you're vacationing with the entire family, Barbados offers a great deal to keep the little ones busy and happy.
The southern and western coasts of Barbados are popular with families due to the calm Caribbean Sea, and the kids delight in the pinkish sandy beaches. Your teens will enjoy the island's east coast which faces the Atlantic, so there are tumbling waves perfect for light surfing.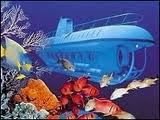 Better than a glass-bottom boat, the kids will have fun watching Barbados' undersea world of exotic fish and colorful marine life aboard an Atlantic Adventure submarine (see photo), with its large "picture window" portholes for great viewing
The entire family will have fun exploring Harrison's Cave, a unique phenomenon in the tropics. You'll ride a tram down through the extensive system of rooms with amazing stalagmites and stalactites, and at the lowest point you'll have the chance to get out and walk alongside a spectacular waterfall which plunges into a deep pool below.
Barbados also offers a number of waterparks and amusement parks to thrill the kids.
An advantage to a timeshare vacation on Barbados is that it lies basically outside the hurricane belt – as does Aruba.
Check out Barbados timeshare rentals.
2. St. John Island, USVI. If you're looking for a truly eco-friendly vacation, rent a timeshare on St. John Island. The forward-thinking Laurance Rockefeller donated 5,000 acres in 1956 to establish the Virgin Islands National Park (see photo) for the purpose of protecting St. John from industrial development.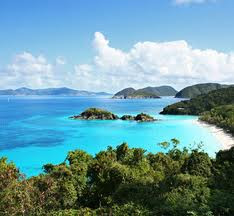 The Park covers two-thirds of the island, and more than one-third of the 11,500 acres that now make up the Park are underwater. Due to Rockefeller's foresight, St. John can boast of having the most pristine coral reefs and beaches in the Caribbean.
Check out St. John Island timeshare rentals.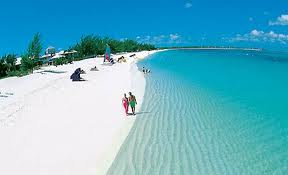 3. Turks and Caicos Islands. This group of islands is where you'll want to go if you're looking for a quiet, out-of-the-way Caribbean destination. Not as well known to the public as many of the other islands, this is where many world celebrities come to vacation away from crowds.
However, there is still plenty to do here, such as an annual series of concerts called The Turks & Caicos Music and Cultural Festival. Held in a temporary bandshell at The Turtle Cove Marina on Providenciales, this week-long summer festival has featured such notable international recording artists such as LL Cool J, Billy Ocean, Chaka Khan, and Boyz II Men.
Check out Turks and Caicos Islands timeshare rentals.
While vacationing in the Caribbean, you might want to consider using your timeshare rental as a hub, and venturing out to explore some of the other islands. Local airline Red Jet offers flights from Barbados to Jamaica, Antique, and Trinidad, while the carrier LIAT operates a comprehensive route network around the Caribbean.
You can also enjoy exploring via the "scenic route" by choosing one of the several ferry companies that criss-cross the islands.
The best way to deal with the dark and cold of winter is to not have to deal with it. Head to splashing sunshine, warm days, and balmy evenings – rent a Caribbean timeshare and get through winter by ignoring it.
Photo Credit (Barbados): atlanticadventures.com
Photo Credit (St. John Island): azamaraclubcruises.com
Photo Credit (Turks and Caicos Islands): inclusiveideas.com
Categorized in: Barbados timeshare rentals, caribbean, St. John Island timesshare rentals, timeshare, timeshare winter getaway, Turks and Caicos Islands timeshare rentals