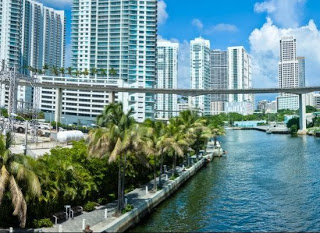 Travel and Leisure has released its list of the top American Cities to escape winter's chill and thaw out in warm sunshine, as voted on by their readers. In a 5-Part series we'll look at 5 of the top American cities on the list that also make great timeshare rental winter vacation destinations.
1. Miami. The forefather of American snowbird vacations, the greater Miami area, which also includes Miami Beach, Sunny Isles, and Surfside, epitomizes the winter getaway. What better place to vacation in February than somewhere that is warm (average February temperature is mid-70's) and has 15 miles of beaches?!
Sun, sand and surf are only part of enjoying the beaches of Miami. Two Key Biscayne parks offer something different. Visit Bill Bagg's Cape Florida State Park where you can climb the 109 steps up to the top of the lighthouse that was built in 1825 – the oldest standing structure in Miami-Dade County.
Or enjoy the sparkling white sands of Crandon Park Beach and picnic in the Crandon Gardens where native birds, turtles and reptiles run freely.
Stroll outdoors through the balmy breezes of South Beach and take a guided walking tour of Miami's renowned Art Deco District. This fun area of colorful buildings is a National Historic District.
And, of course, when you're in Miami you must plan at least a day to experience the incomparable Everglades National Park, just 20 miles from the city. The 1.5 million acre wilderness reserve has been designated a World Heritage Site, an International Biosphere Reserve, and Wetland of International Importance.
Enjoy over 150 miles of canoe, kayaking and walking trails that allow you to get close to the mangrove swamps, water channels through sawgrass prairies, and see the many kinds of land and marine animals that call this special place home.
Many people think of Miami as an expensive city in which to vacation. Since you already know the secret of a budget-friendly timeshare rental, you'll be able to have a winter vacation in Miami in style, and still stay in budget.
For example, timeshare rentals at Marriott's Villas at Doral start at just $120/night to sleep six,at the Westgate Miami Beach a timeshare rental starts at just $128/night to sleep six, and at the Solara Surfside you can rent a timeshare for $89/night to sleep four.
Remember also that your timeshare rental will come with a full-sized, fully-equipped kitchen for more savings – no need to eat out three times a day at expensive Miami restaurants. Save that for special occasions, and prepare most of your meals "at home," and make your own mojitos!
Photo Credit: huffingtonpost.com
Categorized in: Crandon Gardens, Marriott's Villas at Doral, Miami timeshares, Miami's Art Deco District, Solara Surfside Resort, South Beach, timeshare winter vacation, Westgate Miami Beach