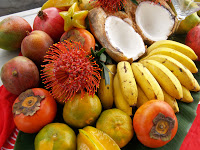 Going on vacation means new sights to see and things to experience. However, it can also mean a serious decline in healthy eating. The hustle and bustle of a trip often leaves us reaching for a hamburger instead of taking the time to eat right. This doesn't have to be the case! The next time you travel, take time to consider some healthy alternatives.

1. Experience New Foods: Every place has its own culinary specialty. Do some research before you leave home to find out what your destination does best. If you're traveling to a warmer area than what you're used to, you may be able to treat yourselves to fresh fruits and vegetables that you wouldn't be able to get at home. Trips to the coast aren't complete without freshly caught seafood.
If you're visiting a foreign country, take a chance on the local cuisine. Just because the golden arches are everywhere doesn't mean they're your only option – there are healthy alternatives out there that you can only get while traveling.

2. Check out Farmer's Markets: There's no better way to get a feel for the area you're visiting than by shopping at farmer's markets. People from all walks of life will be there, allowing for some interesting conversations and the chance to make new friends. Oh, and don't forget the food! Meat, cheese, baked goods, produce… there's no end to the things you can find at a farmer's market. You may be able to pick up gifts for people back home (local coffees or beer, for example), or find something perfect for your dinner that night. Keep your eyes open and don't be afraid to explore.

3. Take Advantage of Your Kitchen: If you're looking for healthy choices, the kitchen amenities at your timeshare rental is a great place to start. Take this time away from the craziness of day to day life to really enjoy cooking. Get fresh ingredients from a farmer's market or pick up some spices that you wouldn't find at home. Try new recipes and share it with your family. Chances are good that the memories you'll make over this kind of dinner are the ones that will last.
4. Ask Around: It's easy to be shy when traveling, but if you talk to the people you meet you'll get inside information on some of the best places to get food. It's likely that the best restaurants around will be the ones offering a healthy alternative to greasy fast food. However, these smaller eateries can be difficult to find without some guidance. Don't be afraid to ask for opinions – no one knows your location better than the people who live there.
From farmer's markets to timeshare kitchens, there's no excuse not to eat well while traveling. Take a chance and explore something new!
About our guest author: Jeremiah S. is a certified personal trainer and exercise fanatic. When he is not training he writes for fitness-health-wellness.com – a leading online hub for the most informative and life changing tools, tips, and resources for all things fitness and wellness.
Photo Credit: soniatasteshawaii.com
Categorized in: Christmas timeshare vacation, Farmers Markets, healthy eating, timeshare kitchen, timeshare rental