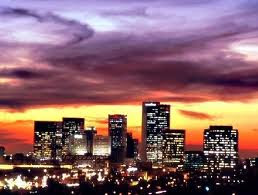 Travel and Leisure has released its list of the top American Cities to escape winter's chill and enjoy sunshine and warmth, as voted on by their readers. In a 5-Part series we'll look at 5 of the top American cities on the list that also make great timeshare rental winter vacation destinations.
3. Phoenix. This American city destination also includes other popular towns in Greater Phoenix such as Mesa, Tempe, and Scottsdale. If you're looking for a place to really thaw out on a winter timeshare rental getaway, the greater Phoenix area of Arizona can't be beat, with its warm dry air, balmy evenings, and multitude of outdoor activities.
Greater Phoenix offers over 200 golf courses of every shape, size, price, and for every ability. And although the area is in the heart of the Sonoran Desert, there are six lakes within a 75-mile drive, where you can choose to water ski, sail, or fish. There are also some great places for tubing on the area's rivers.
South Mountain Park is the largest municipal park in the U.S. It's 16,000 acres offer 58 miles of trails for cycling, hiking and horseback riding The park's lookout point rises over 1000 feet above the desert floor.
Explore the Superstition Mountains by horseback, jeep, or Hummer. Or you can soar above the desert plateau in a glider, sailplane or hot-air balloon.
The Phoenix International Raceway hosts NASCAR® events in February and March. If these spectacles don't get your pulse racing, you can head over to the Bondurant School of High Performance Driving and get a taste of what it's like to drive like the pros.
The temperate temperatures in March are perfect for spring training, and the Cactus League, sister to Florida's Grapefruit League, attracts more than 1 million major league baseball fans to Greater Phoenix annually. The Cactus League consists of 15 major league teams, 12 of which practice within Greater Phoenix, while the other 3 are just 2 hours away in Tucson.
Phoenix hosts such teams as the Milwaukee Brewers and the Oakland As. In Mesa you can watch the Chicago Cubs; Tempe supports the Los Angeles Angels; and Scottsdale is where the San Francisco Giants practice.
From desert hiking to water fun to major sports, Greater Phoenix will keep you so busy that you'll forget all about the cold weather back home.
Greater Phoenix offers numerous timeshare rentals that will make your winter getaway comfortable and relaxing. Marriott's Canyon Villas at Desert Ridge in Phoenix has rentals starting at just $129/night. Timeshare rentals at the Painted Mountain Golf Resort in Mesa start at just $114/night. And you can find a timeshare rental for just $121/night in Scottsdale at the Sheraton Desert Oasis.
Photo Credit: wikepedia.com
Top American Cities for a Warm Timeshare Winter Vacation Part 1 (Miami)
Top American Cities for a Warm Timeshare Winter Vacation Part 2 (Honolulu)
Categorized in: Mesa AZ, nascar, Phoenix, Phoenix International Raceway, spring training, Tempe AZ, timeshare rentals, timeshare winter vacation