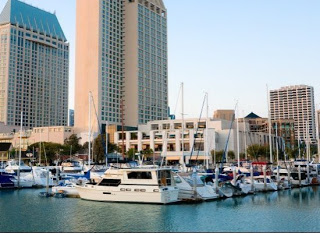 Travel and Leisure has released its list of the top American Cities to escape winter's chill and enjoy sunshine and warmth, as voted on by their readers. In a 5-Part series we'll look at 5 of the top American cities on the list that also make great timeshare rental winter vacation destinations.
4. San Diego. Travel and Leisure's readers voted San Diego the "Weather Champion" for a perfect winter getaway, with its average temperature of 70 – not too hot, not too cold…just right. San Diego was also voted the safest, and the cleanest, city in the country.
San Diego County has just about everything every member of the family would ever need for a memorable vacation of a lifetime.
1. Beaches. San Diego County has a whopping 22 great beaches. While a few are state beaches that require a minimal fee, generally around $6-$10, most of the beaches are open to the public for free. While the Pacific Ocean is a little chilly at this latitude in the winter, and you might want to wear a wetsuit when you dive or surf, the warm air temps make lazing on the beach a great way to soak up the sun.
2. Theme Parks. San Diego is where the original Sea World was built in 1964, by four UCLA college buddies. Located along the shores of beautiful Mission Bay, SeaWorld San Diego is a great place to spend a day enjoying the antics of trained sea lions, the breathtaking gymnastics of Shamu and his orca friends, fun and friendly dolphins, and even getting up close and personal (sort of) to sharks.
Located in the coastal town of Carlsbad, less than half an hour from downtown San Diego, is the first Legoland to be built outside of Europe. Each of the nine areas not only offers fun and exciting rides, but attractions made completely out of Legos.
3. Zoos. The San Diego Zoo, in beautiful Balboa Park, is world-famous, and for good reason, being the pioneer in building cageless habitats for zoo animals.A real treat at this zoo are three Giant Pandas, on loan from China.
The San Diego Zoo Safari Park (formally known as San Diego Wild Animal Park), located near the north county town of Escondido, has 1800 acres of free-range enclosures.
As you can see, San Diego is truly an incredible family vacation destination. It can be budget-friendly, too, as there are numerous timeshare rentals available throughout the county. Rent a timeshare at Capri by the Sea for just $86/night, and at thef Gaslamp Plaza Suites in the heart of downtown San Diego for just $93/night.
Photo Credit: huffingtonpost.com
Top American Cities for a Warm Timeshare Winter Vacation Part 1 (Miami)
Top American Cities for a Warm Timeshare Winter Vacation Part 2 (Honolulu)
Top American Cities for a Warm Timeshare Winter Vacation Part 3 (Phoenix)
Categorized in: Capri by the Sea, Gaslamp Plaza Suites, san diego, San Diego Zoo, Sea World, timesahre winter vacation