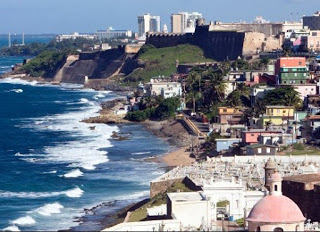 Travel and Leisure has released its list of the top American Cities to escape winter's chill and enjoy sunshine and warmth, as voted on by their readers. In a 5-Part series we'll look at 5 of the top American cities on the list that also make great timeshare rental winter vacation destinations.
5. San Juan. Travel and Leisure readers were happy to include San Juan in the top American winter getaway cities list, seeing as how it is the capital of American territory Puerto Rico. And being in one of the world's iconic winter getaway spots – the Caribbean – made its inclusion a no-brainer. San Juan was also voted near the top for Cultural Getaways, and was tops for foodies, winning Best Ethnic Fare, and Best Street Food.
Besides its beautiful city beaches alongside turquoise waters, San Juan offers numerous activities that range from historical sight-seeing to an adventure park.
Historic Old San Juan, elegant and charming, is one of the most popular attractions for visitors. The streets are covered by adoquine, a blue stone that was brought over as ballast on the Spanish ships.
The old city's ancient defensive wall and forts, El Morro and the Castle of San Cristobal, were both designated as part of this World Heritage Site. Old San Juan is also a U.S. National Historic Site and is administered by the U.S. National Park Service.
The Lelolai Festival is presented every Tuesday evening at the Castle San Cristobal's main plaza. The festival has been hosted by the Puerto Rican Tourism Company, as part of its entertainment and cultural program, for almost 30 years. It was created to promote the Puerto Rican culture through music, rhythm and dances that highlight the island's Native, Spanish and African heritage.
Puerto Rico is known for its myriad offerings of adventure sports, and San Juan's is Campo Rico Zip Lining Adventure. This half-day experience includes hiking, kayaking, crossing canopy bridges, and one of the longest zip lines on the island which ends at the unique hilltop Mojito Bar for lunch.
San Juan has a world-wide reputation for its nightlife, owing much to the fact that even here there is something for everyone. You can chose from wild clubs to hopping bars to chic and intimate lounges. One of the top favorites with tourists is Club Brava, where there is an energetic crowd and where you can mingle with celebrities and the city's "pretty people."
San Juan's beachfront ESJ Towers Resort has timeshare rentals that start at just $80/night.
Photo Credit: huffingtonpost.com
Top American Cities for a Warm Timeshare Winter Vacation Part 1 (Miami)
Top American Cities for a Warm Timeshare Winter Vacation Part 2 (Honolulu)
Top American Cities for a Warm Timeshare Winter Vacation Part 3 (Phoenix)
Top American Cities for a Warm Timeshare Winter Vacation Part 4 (San Diego)
Read Travel and Leisure's entire list.
Categorized in: Castle of San Cristobal, El Morrow, ESJ Towers, timeshare vacation; timeshare winter vacation; timeshare rentals; San Juan