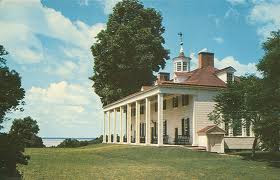 Did you know that February 22 isn't really George Washington's birthday? The man who would become the father of our country was actually born on February 11 in 1731, based on the Julian calendar that was in use at that time. In 1752 when Britain and its colonies adopted the Gregorian calendar that we all use today, everyone's birthday was moved eleven days ahead.
Regardless of when George Washington was born, his life is one to be celebrated all year long. One of the best ways to do that is to plan a timeshare rental vacation to visit his remarkable estate at Mount Vernon, VA.
When planning your visit you should expect to spend several hours at Mount Vernon, and it's easy to even spend an entire day there, with so much to see and experience as you immerse yourself in George and Martha Washington's life on the Potomac River.
You'll be able to visit the Mansion, out-buildings, and nearly 50 acres of the extensive plantation, which include beautiful gardens and restored landscapes, and the George Washington: Pioneer Farmer site, a 4-acre demonstration farm with a reconstructed slave cabin and 16-sided treading barn.
Exploring the dozen or so structures on the estate will give you a good idea of every day life at Mount Vernon, including the laundry, the kitchen, and a working blacksmith shop.
In the Mansion you'll see the parlor where George and Martha greeted friends and distinguished visitors, and the dining room where they held everything from lavish dinners to simple family breakfasts. You'll also get a peek into the couple's bedroom, where George Washington succumbed in 1799.
It's awe-inspiring and somewhat humbling to visit the Tomb in which lay both George and Martha Washington. You'll also see the slave cemetery overlooking the Potomac River. Although the graves are unmarked, William Lee, George Washington's personal servant during the Revolutionary War, is known to be buried at the site. The slave burial ground is marked by a memorial to honor the slaves who lived and worked at Mount Vernon.
When planning your visit be sure to consider the informative guided tours and engaging events that are offered at various times of the year. For a unique experience, the Mount Vernon by Bike and Boat package includes a bike rental, admission to the Estate and a sightseeing cruise on the Potomac River.
Mount Vernon is just 9 miles from Washington, D.C., where you'll find great timeshare rental accommodations. Wyndham's Old Town Alexandria has timeshare rentals starting at just $68/night, and its sister resort, Wyndham Vacation Resorts at National Harbor has timeshare rentals starting at $125/night.
Photo Credit: vintagetravelpostcard.blogspot.com
Categorized in: George Washington, Mount Vernon, timeshare rentals, Wyndham Vacation Resorts at National Harbor, Wyndham's Old Town Alexandria