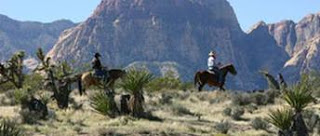 There are any number of party towns around the globe, but only one that claims the "Party Capital of the World" title – Las Vegas. For razzle and dazzle nowhere else does it with such pizazz.
But away from the city's glitz and glamor is a surprising other world that's also worth exploring. Las Vegas sits in an arid basin on the desert floor, where the environment is dominated by desert vegetation and wildlife. Just 30 minutes from the "Party Capital" is The Lake Mead National Recreation Area, named for the reservoir that was formed when the Hoover Dam was built across the Colorado River.
Tours can be taken through and around Hoover Dam. This National Historic Landmark is one of the 7 Man-Made Wonders of the World.
The Hoover Dam by-pass bridge, named the Mike O'Callaghan-Pat Tillman Memorial Bridge, opened in 2010. Instead of driving over the dam, traffic now crosses the Colorado River via this bridge that has been placed between the rock cliffs that form Black Canyon. At 890 feet above the river, this is the highest, and longest, arched concrete bridge in the Western Hemisphere.
The Lake Mead Recreation Area offers outstanding year-round outdoor recreational opportunities. Boating on the 112-mile-long Lake Mead, with its myriad islands, inlets, and hidden coves, is one of the most popular.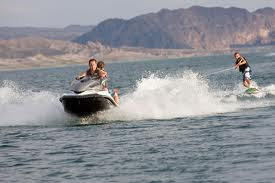 All types of boats can be rented from 5 different marinas, for water skiing (see photo right), kayaking, and even fishing. (Ask nice, and you might learn that the locals go for the big trout at Willow Beach, while Cottonwood Cove offers great bass fishing.)
If you enjoy hiking and biking, the Recreation Area is crisscrossed with numerous trails, and approved backcountry roads are marked. (Remember – this is the desert. Be sure to always carry plenty of water, go with a buddy, and let someone know your itinerary.)
If you feel like you are in the Old West – you are. Especially when you visit the Red Rock Canyon National Conservation area. Here you can enjoy a family-owned ranch with an Old West setting. Its Cowboy Trail Rides (see top photo) offers horseback rides guided by professional wranglers along trails that wind through the valley in a natural setting worthy of any classic Western movie.
Imagine gambling in a major casino, dancing at a swinging nightclub, and seeing a hit show at night, and by day being able to water ski or horseback ride. Leave it to Las Vegas to have it all.
And staying in Las Vegas is very affordable if you know the secret of timeshare rentals which start as low as $53/night.
Photo Credit (top) visitlasvegas.com
Photo Credit (center) personalwatercraft.com
Categorized in: Cowboy Trail Rides, Hoover Dam, Lake Mead Recreational Area, Las Vegas, las vegas timeshare rentals, timeshare vacation