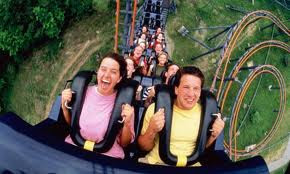 Walt Disney World and Universal Orlando are two of the most popular destinations in Florida But if you only have the time (or the budget) to visit one or the other, which should you opt for? Part 2 of our 2-part series continues to look at the pros and cons of each theme park destination. Use these tips to choose the best one for your next Orlando timeshare rental vacation.
Budget
At first glance, prices for Universal and Disney are about the same. You'll pay about the same price to enter, and fast food meals cost out about the same as well.
Where the parks differ is in the amount of merchandise offered for sale and the number of expensive table service dining locations.
While both Universal and Disney offer merchandise, Disney's knack for display and upselling means you'll likely part with more cash in a Disney park than a Universal one. The exception is in the Wizarding World of Harry Potter, where shops such Ollivanders are full-scale attractions as well as mere retail outlets.
You'll get a great meal when you visit the Disney theme parks—but you'll pay more for it as well. Epcot alone has more than 10 fine dining spots – compare this to the paltry table service offerings at Universal. With more places and menus to tempt you, you'll almost certainly pay more to dine at Disney.
Lines and Wait Times
On the busiest days (spring break, 4th of July, Christmas day), both resorts will be swamped with guests, and both will have equally long wait times. For regular times of year, Disney may be a better bet if you want to spend less time waiting in line, provided you stay at a Disney resort.
With extra magic hours, free Fastpasses and excellent line/wait time estimates, Disney is a little better at crowd control than Universal. While some areas of Universal are manageable, the big attractions like Dueling Dragons, Spiderman and the Hulk Coaster have overwhelming lines on average days. Universal does offer a front-of-line pass, but you'll pay for the privilege.
Rides and Attractions:
Both theme park areas offer outstanding rides and attractions. In general, Universal rides tend to be on a larger scale – more thrilling, more scary, more intense – than Disney ones. If you prefer the big thrills of a huge coaster or want to be wowed by the motion of a ride, head to Universal.
Disney isn't thrill free, but the thrill rides are interspersed with more family friendly rides and attractions. If you want to marvel at the storyline and be captivated by your overall ride experience – and don't care as much about the thrills, head to Disney.
Which ever theme park you chose for a great vacation you'll save by staying in a budget-friendly timeshare rental. Check out Orlando timeshare rentals, and Disney timeshare rentals for a big variety from which to chose.
Samantha McNesby is a freelance writer specializing in topics related to travel, parenting, and the home. Samantha has been a writer for 12 years, and covers the Disney and Orlando theme parks for a variety of online and print publications. This includes Theme Park Tourist, the web's leading source for theme park news.
Photo Credit: guardian.co.uk
Timeshare Vacation – Walt Disney World or Universal Orlando? Part 1
Categorized in: Disney timeshare rentals, Orlando timeshare rentals, timeshare vacation, Universal Orlando, Walt Disney World