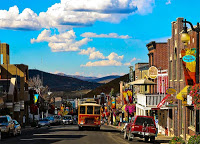 The historic mining town of Park City, Utah, is better known now for the number of tourists it draws from around the world to its famous ski resorts. Just 20 miles from downtown Salt Lake and only 45 minutes drive from the Salt Lake International Airport, here visitors can find some of the best snow and most accessible ski resorts in the western US.
Deer Valley Resort and Canyons Resorts held the public spotlight as they hosted many of the ski and snowboarding events at the 2002 Winter Olympics. Visitors can still spend a day at the former but still active Olympic ski jump site and the Bob Sled track.
With over 64 historic buildings and numerous old mining sites the city has a rich history. Founded in 1884 Park City the first visitors were miners attracted by rich silver deposits in the local mountains which gave up over 400 million in silver. The silver boom ended by the 1930's and the town began to develop its tourism industry.
The small historic streets of Park City are lined with upscale shops, great clubs and a fantastic array of bars and restaurants. Shoppers on a budget can head a few minutes off the historic main streets and visit the largest collection of factory outlet stores in Utah just off the freeway.
If skiing is not your thing the city is host to the Sundance Film Festival, one of the United States' largest independent film events. The event is held annually typically during the 3rd week in January and tickets to the most popular films generally sell out well in advance. So plan now for next year.
Since Park City lies at 7000 feet temperatures are cool and comfortable for those seeking a retreat from the summer heat. Nearby reservoirs host great trout fishing and water skiing and the Wasatch and nearby Uinta Mountains have great opportunities for camping, hiking and backpacking.
Mountain bikers can find delight in the numerous and easily accessible trails that are just minutes from the city. Even in the winter visitors who favor cross-country skiing can find solitude on many miles of ski trails in these local mountains.
For more information on popular vacation destinations to help you plan your timeshare vacation, visit touristlink.com.
Budget-friendly Park City timeshare rentals are available, starting as low as $64/night.
Our guest author, Dr. David Urmann, is CEO and co-founder of VisitUSA.com. Dr. Urmann is an entrepreneur whose global perspective and scientific background have helped him launch successful business ventures in both the travel and outsourcing industries. He has a passion for travel, and his favorite destinations are the canyons of southern Utah , the Himalayas and the beaches of the Philippines.
Categorized in: Canyons Resort, Deer Valley Resort, Park City, Spring Break Destination, summer vacation, timeshare rentals