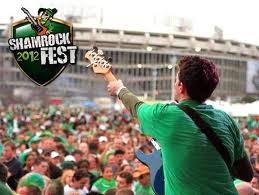 If you're looking for a way to go all out for the "Wearin'-O-The-Green" this year, head to ShamrockFest in Washington, D.C. This isn't your laid-back St. Patrick's Day celebration – this is definitely thinking outside the box.
Well, ShamrockFest will have green beer – and beer packages that include Guinness, Harp, and Killians. But that's where the similarity to other St. Patrick's Day celebrations ends.
Get ready for possibly the best party in the history of St. Paddy celebrations, with 50 live bands, DJs, and other entertainers on 10 massive stages. The entertainment includes Irish punk band Dropkick Murphys, rousing and raucous Sythian, and fan favorite Gaelic Storm who combine traditional Gaelic music with American rock and pop.
Along with one crazy Leprechaun, ShamrockFest's Irish Village offers the Shamrock Pub Games – "a ridiculous spectacle in which participants test their shame-level like never before." The games include the Green Balloon Partner Squeeze, the Best Mens' Legs in Kilt contest, and of course the ever popular St. Patrick's Day Hula Hoop contest. It's free to enter the games, and there will be cash prizes.
Scattered among the musical stages and the fifteen party areas will be carnival rides, Taste of Ireland food pavilions, and the DC Gael's Irish Football National Tournament.
ShamrockFest will be held in Washington, DC, at the RFK Stadium Festival Grounds. And the good news? It's on Saturday, March 24th! When else would you hold the wildest and craziest St. Patrick's Day celebration?
So you still have time to make plans to attend. And to help your ShamrockFest trip be really budget-friendly, gather your mates and split the cost of a timeshare rental. You can get a timeshare rental at Wyndham's Old Town Alexandria for as little as $71/night to sleep four. That's less than $20/night per person – for some luxury digs!
Photo Credit: dealupa.com
Categorized in: George Washington DC, ShamrockFest, St. Paddy's Day, St. Patrick's Day, St. Patrick's Day celebrations, timeshare rentals, Wyndham's Old Town Alexandria