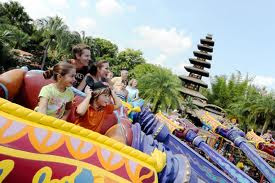 Walt Disney World and Universal Orlando are two of the most popular destinations in Florida—and in the entire United States as well. You'll find plenty of great things to see and do in each of the competing theme park resorts. Both are packed with attractions designed to tempt and delight visitors, so you're sure to have a great time, no matter which you choose to visit.
But how to make the decision of where to go? In our 2-Part series we'll look at some pros and cons of each theme park destination to help you in planning your Orlando timeshare vacation.
If you only have the time (or the budget) to visit one or the other, base your decision on such things as the types of rides you prefer, the age of your kids, and what type of atmosphere you gravitate towards.
Employees and Service
One of the biggest differences between the Walt Disney World parks and the Universal Orlando parks is the overall feeling and atmosphere. From the second you walk through the turnstiles of a Disney resort, you're treated as a welcome, honored guest – or a member of the family. It is not unusual for Disney Cast Members to greet visitors by name (for those wearing nametags or badges), or to address even the smallest girls as "princess".
Disney employees are known for their friendly, caring behavior, and the attention to cleanliness and order at the Disney parks is one of the things that keeps fans coming back again and again. Fall down and cut your knee? You'll find yourself surrounded almost instantly by Cast Members trying to help.
Lose track of your little one? Disney has a plan to help, and part of that plan is assigning a Cast Member to you while everyone else looks for your child. (Your lost kiddo gets a special cast member too, along with a fun spot to play until you are reunited).
Over at Universal, folks are friendly, but generally not quite as engaging as their equivalents at Walt Disney World. You can usually find help, but you will have to ask for it. While you're unlikely to have a bad experience at Universal, if you are looking for outstanding service, head to Disney.
Child-Friendliness
The age of your kids will determine which park is best for your family. Have a ton of toddlers or a pack of preschoolers? Head to the Magic Kingdom (see photo) at Walt Disney World; it truly is the happiest place on earth for these little ones.
Hauling along primary school children? You're in luck—both resorts will serve your needs equally well. Kids in this age group are likely to be tall enough for most rides, and are old enough to enjoy them and follow the story line.
Got tweens? Universal may just have the edge here, thanks to the addition of the Wizarding World of Harry Potter. If you are bringing along a Hogwarts fan, you won't want to miss this area, located in the Islands of Adventure section of Universal Orlando.
Older kids and teens may prefer Universal, thanks to the park's hipper, edgier vibe. Universal has more thrilling rides than Disney, for the most part, so thrill seekers might give the edge to Universal as well.
Which ever theme park you chose for a great vacation you'll save by staying in a budget-friendly timeshare rental. Check out Orlando timeshare rentals, and Disney timeshare rentals for a big variety from which to chose.
Our guest author is Samantha McNesby, a freelance writer specializing in topics related to travel, parenting, and the home. Samantha has been a writer for 12 years, and covers the Disney and Orlando theme parks for a variety of online and print publications. This includes Theme Park Tourist, the web's leading source for theme park news.
Photo Credit: travelblog.viator.com
Categorized in: The Wizarding World of Harry Potter, timeshare vacation, Universal Orlando, Walt Disney World