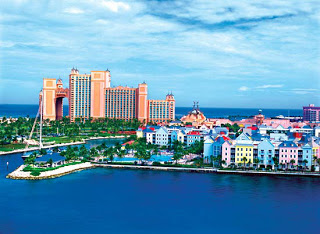 The Harborside Resort at Atlantis is the Number 1 resort on the Top 25 Timeshare Rental Resorts as voted on by RedWeek members. This amazing resort on Paradise Island in the Bahamas is also a top rated resort with many celebrities from around the world.
And it's no wonder that the Harborside Resort at Atlantis is a favorite for all vacationers. Just look at all of the things it offers: the world's largest marine habitat, a Mayan Temple waterslide (see photo below), an electrifying casino, international cuisine, exceptional facilities for sports and shopping, and salon and spa services.
The actual accommodations include one-, two-, and three-bedroom villas, decorated in bright colors, with all the amenities and comforts of home. Each villa includes a fully-equipped kitchen and entertainment center complete with VCR. If you must keep in touch with the outside world on your vacation, Harborside has a business center with copying, fax, and Internet services. But you might want to consider leaving that laptop and Blackberry at home – after all, you're in the Bahamas!
When you talk about vacationing in the Bahamas, you're biting off a pretty big chunk. This Caribbean archipelago is made up of 29 main islands, 661 cays (low-level sandy islands formed on the surface of coral reefs), and 2000 smaller islands spread out over 100,000 square miles of sparkling blue ocean, starting just 50 miles off the coast of Florida. It has the third largest barrier reef in the world, in what many consider the clearest water on the planet.
The Bahamas is perhaps the most famous Caribbean vacation destination, known all over the world. Renting a budget timeshare makes a family vacation here very affordable. Currently the Harborside Resort at Atlantis has timeshare rentals starting at just $126/night.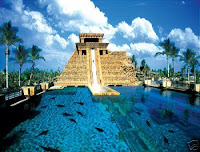 As one reviewer said: The Atlantis resort is pretty impressive and expansive. We walked several miles per day, just getting around the resort. It takes a week to see everything and sample the restaurants at Atlantis. Of course the aquariums and water slides are awesome.
Photo Credits: atlantis.com
Categorized in: Bahamas, Paradise Island, timeshare rental. Harborside Resort at Atlantis, Top 25 timeshare rental resorts